Saturday, November 28, 2015
Boston University Defeated By Cornell, 4-2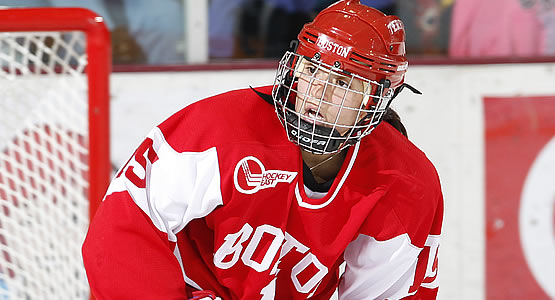 Senior defenseman Lillian Ribeirinha-Braga scored a goal for the Terriers
| | | | | | | |
| --- | --- | --- | --- | --- | --- | --- |
| Prd | Time | Team | Score | Type | Scored By | Assists |
| 1st | 5:49 | COR | 1-0 | PP | Cassandra Poudrier (2) | Micah Hart/3, Jess Brown/3 |
| 1st | 8:26 | BU | 1-1 | PP | Sarah Lefort (5) | Rebecca Leslie/18, Alexis Crossley/3 |
| 1st | 9:14 | BU | 2-1 | EV | Lillian Ribeirinha-Braga (1) | Alexis Woloschuk/5, Dakota Woodworth/4 |
| 1st | 15:11 | COR | 2-2 | EV | Taylor Woods (3) | Sydney Smith/3, Pippy Gerace/1 |
| 2nd | 2:32 | COR | 3-2 | EV GW | Pippy Gerace (3) | Cassandra Poudrier/4, Erin O'Connor/3 |
| 2nd | 19:44 | COR | 4-2 | EV | Jess Brown (2) | Sarah Knee/1, Kaitlin Doering/5 |
| | | | | |
| --- | --- | --- | --- | --- |
| Scoring | 1st | 2nd | 3rd | Final |
| Cornell | 2 | 2 | 0 | 4 |
| Boston University | 2 | 0 | 0 | 2 |
| | | | | |
| --- | --- | --- | --- | --- |
| Shots on Goal | 1st | 2nd | 3rd | SOG |
| Cornell | 6 | 6 | 5 | 17 |
| Boston University | 6 | 7 | 10 | 23 |
| | | | |
| --- | --- | --- | --- |
| Team Stats and Records | PP | PIM | SHGF |
| Cornell (4-5-2) | 1/3 | 7/14 | 0 |
| Boston University (10-7-0) | 1/7 | 4/16 | 0 |
| | | | | | | |
| --- | --- | --- | --- | --- | --- | --- |
| Cornell Goaltending | MIN | GA | 1 | 2 | 3 | Saves |
| Marlene Boissonnault (W, 2-1-0) | 60:00 | 2 | 4 | 7 | 10 | 21 |
| | | | | | | |
| --- | --- | --- | --- | --- | --- | --- |
| Boston University Goaltending | MIN | GA | 1 | 2 | 3 | Saves |
| Victoria Hanson (L, 4-5-0) | 40:00 | 4 | 4 | 4 | 0 | 8 |
| Erin O'Neil | 16:22 | 0 | 0 | 0 | 5 | 5 |
| Empty Net | 3:38 | 0 | | | | |
BURLINGTON, Vt. - Seniors Sarah Lefort and Lillian Ribeirinha-Braga each lit the lamp but the Boston University women's ice hockey team was fell to Cornell, 4-2, on Saturday afternoon at Gutterson Fieldhouse.
Playing in the Windjammer Classic hosted by the University of Vermont, BU (10-7-0) saw its four-game win streak get snapped by Cornell (4-5-2). Both goals came in the first period, with Lefort extending her point streak to five games. Sophomore Rebecca Leslie and junior Alexis Crossley assisted on Lefort's marker while seniors Alexis Woloschuk and Dakota Woodworth had the helpers on Ribeirinha-Braga's goal.
Junior Victoria Hanson got the start between the pipes and made eight saves through two periods before sophomore Erin O'Neil stopped all five shots she saw in the third period.
After Cornell capitalized on a 5-on-3 advantage to take a 1-0 lead, Lefort tied it on the Terriers' first power-play chance of the game. Crossley found Leslie at the left circle, and the sophomore sent a perfect cross-zone pass to a wide-open Lefort. The senior made no mistake for her fifth marker of the season.
Ribeirinha-Braga made it 2-1 just 48 seconds later with her first goal of the season. Following some hard work by freshman Sammy Davis and junior Samantha Sutherland, the puck was freed to Woodworth at the left half-wall. She quickly dished it to Woloschuk, and she passed it over to Ribeirinha-Braga at the top of the zone. The senior's shot took a deflection in front and went past Marlene Boissonnault.
Cornell scored twice in the second stanza, including a goal with 16 seconds to play in the period, to take a 4-2 lead into the final 20 minutes. Lefort nearly got a goal back mere moments into the third period, but she was twice denied after she collected her own rebound.
The Terriers had four power-play chances in the final frame but were unable to convert. Cornell nearly made it 5-2 after one of those opportunities but O'Neil made a spectacular save on a breakaway bid to keep the deficit at just two goals.
Head coach Brian Durocher twice elected to pull O'Neil in favor of an extra attacker, including once with 5:30 remaining and the Terriers on a power play, but BU was unable to score on either occasion.
BU will look to get back on track tomorrow when the Terriers take on Ohio State at 1 p.m.