Saturday, November 14, 2015
Lefort, Elia Lead Boston University To 5-3 Win Over Maine
Senior forward Sarah Lefort and junior forward Maddie Elia each score two goals for Terriers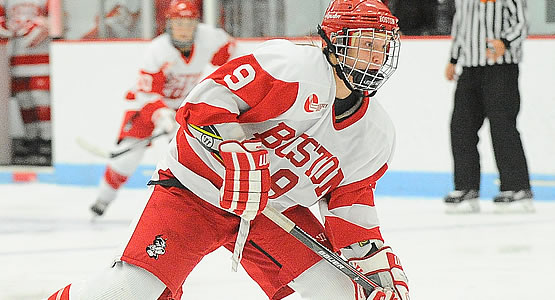 Senior forward Sarah Lefort scores two goals for Terriers
| | | | | | | |
| --- | --- | --- | --- | --- | --- | --- |
| Prd | Time | Team | Score | Type | Scored By | Assists |
| 1st | 0:57 | BU | 1-0 | EV | Sarah Lefort (2) | Kayla Tutino/4 |
| 1st | 14:43 | MNE | 1-1 | PP | Alyson Matteau (3) | Catherine Tufts/1, Cassidy Herman/3 |
| 1st | 18:58 | BU | 2-1 | EV | Victoria Bach (4) | - |
| 2nd | 8:27 | MNE | 2-2 | PP | Catherine Tufts (4) | Audra Richards/4, Brooke Stacey/4 |
| 2nd | 13:18 | MNE | 3-2 | EV | Carolyn Menges (1) | - |
| 2nd | 18:05 | BU | 3-3 | PP | Sarah Lefort (3) | Victoria Bach/8, Rebecca Leslie/14 |
| 3rd | 11:56 | BU | 4-3 | EV GW | Maddie Elia (9) | Rebecca Leslie/15, Rebecca Russo/12 |
| 3rd | 19:23 | BU | 5-3 | EV EN | Maddie Elia (10) | - |
| | | | | |
| --- | --- | --- | --- | --- |
| Scoring | 1st | 2nd | 3rd | Final |
| Maine | 1 | 2 | 0 | 3 |
| Boston University | 2 | 1 | 2 | 5 |
| | | | | |
| --- | --- | --- | --- | --- |
| Shots on Goal | 1st | 2nd | 3rd | SOG |
| Maine | 6 | 17 | 10 | 33 |
| Boston University | 8 | 10 | 15 | 33 |
| | | | |
| --- | --- | --- | --- |
| Team Stats and Records | PP | PIM | SHGF |
| Maine (6-7-0) | 2/6 | 7/14 | 0 |
| Boston University (7-6-0) | 1/7 | 6/12 | 0 |
| | | | | | | |
| --- | --- | --- | --- | --- | --- | --- |
| Maine Goaltending | MIN | GA | 1 | 2 | 3 | Saves |
| Meghann Treacy (L, 5-7-0) | 59:33 | 4 | 6 | 9 | 13 | 28 |
| Empty Net | 0:27 | 1 | | | | |
| | | | | | | |
| --- | --- | --- | --- | --- | --- | --- |
| Boston University Goaltending | MIN | GA | 1 | 2 | 3 | Saves |
| Victoria Hanson (W, 3-4-0) | 59:47 | 3 | 5 | 15 | 10 | 30 |
| Empty Net | 0:13 | 0 | | | | |
BOSTON - Junior Maddie Elia scored two goals, including the game-winner with 8:04 remaining in regulation, to help the Boston University women's ice hockey team earn a 5-3 win over Maine on Saturday afternoon at Walter Brown Arena.
BU (7-6-0, 5-3-0 WHEA) also got two goals from senior Sarah Lefort, who set a new program record for career goals with 82. She surpassed the mark set by Marie-Philip Poulin, who tallied 81 goals as a Terrier. Lefort now has 154 points (82g, 72a) in her storied career.
Sophomore Victoria Bach lit the lamp and had an assist while classmate Rebecca Leslie added a pair of helpers. Seniors Kayla Tutino and Rebecca Russo each had an assist as well.
Junior Victoria Hanson started her second straight game and made 30 saves to earn the win. She stopped all 10 shots she saw in the final 20 minutes and made 13 saves while the Terriers were shorthanded. It was a penalty-plagued affair, as the teams combined for 26 penalty minutes and 13 power plays. BU was 1-of-7 on the power play while Maine went 2-of-6.
Elia became the first Terrier to score 10 goals this season and now has a goal in five of her last six games. Leslie leads the team with 19 points and has put together back-to-back two-assist efforts.
Lefort's first goal came thanks to hard work along the boards by Bach and Tutino. Tutino eventually won the puck free and fed a wide-open Lefort between the circles. Lefort beat a helpless Meghann Treacy (28 saves) for her second strike of the season.
Maine tied the game on a 5-on-3 power play, but the Terriers responded late in the opening frame when Bach forced a turnover in the neutral zone and converted the breakaway chance for her fourth goal of the season.
The Black Bears tallied another power-play goal 8:27 into the second stanza and then scored again less than five minutes later to take their first lead of the game at 3-2. Both teams combined for seven penalties in the middle frame.
Lefort tied the game on the power play with 1:55 remaining in the second period. She used her reach to get to a loose puck behind the net and quickly deposit it into a vacant space by the right post.
Elia gave the Terriers the lead for good thanks to a good forecheck with her linemates. Eventually Leslie dished the puck to Elia, who created space for herself and ripped a wrister past Treacy.
Maine pulled Treacy in favor of an extra attacker with little over a minute remaining, but Elia was able to force a turnover and shoot the puck into the empty net to seal the result.
BU and Maine will conclude their regular-season series on Sunday at Walter Brown Arena. Puck drop is set for 3 p.m.