Saturday, February 27, 2016
Vermont Ties Up Series With 4-2 Win At Boston University
Freshman forward Saana Valkama scores two goals for Catamounts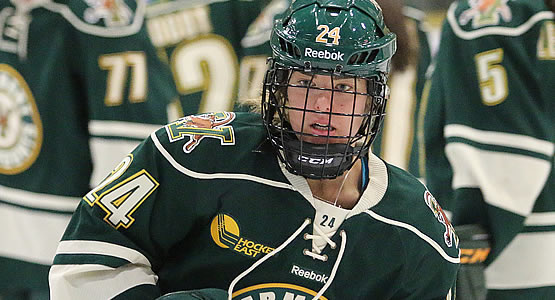 Freshman forward Saana Valkama scored two goals for the Catamounts
| | | | | | | |
| --- | --- | --- | --- | --- | --- | --- |
| Prd | Time | Team | Score | Type | Scored By | Assists |
| 1st | 12:00 | VER | 1-0 | PP | Taylor Willard (10) | Alyssa Gorecki/8, Daria O'Neill/10 |
| 2nd | 3:07 | VER | 2-0 | EV | Rachael Ade (3) | Victoria Andreakos/6 |
| 2nd | 8:07 | VER | 3-0 | EV GW | Saana Valkama (6) | Alyssa Gorecki/9, Dayna Colang/16 |
| 3rd | 11:03 | BU | 1-3 | SH | Rebecca Leslie (12) | - |
| 3rd | 12:05 | BU | 2-3 | SH | Victoria Bach (21) | Rebecca Leslie/34 |
| 3rd | 19:39 | VER | 4-2 | EV EN | Saana Valkama (7) | Victoria Andreakos/7, Bridget Baker/7 |
| | | | | |
| --- | --- | --- | --- | --- |
| Scoring | 1st | 2nd | 3rd | Final |
| Vermont | 1 | 2 | 1 | 4 |
| Boston University | 0 | 0 | 2 | 2 |
| | | | | |
| --- | --- | --- | --- | --- |
| Shots on Goal | 1st | 2nd | 3rd | SOG |
| Vermont | 13 | 9 | 10 | 32 |
| Boston University | 11 | 14 | 15 | 40 |
| | | | |
| --- | --- | --- | --- |
| Team Stats and Records | PP | PIM | SHGF |
| Vermont (9-24-3) | 1/2 | 1/2 | 0 |
| Boston University (21-13-2) | 0/1 | 2/4 | 2 |
| | | | | | | |
| --- | --- | --- | --- | --- | --- | --- |
| Vermont Goaltending | MIN | GA | 1 | 2 | 3 | Saves |
| Madison Litchfield (W, 6-15-3) | 60:00 | 2 | 11 | 14 | 13 | 38 |
| | | | | | | |
| --- | --- | --- | --- | --- | --- | --- |
| Boston University Goaltending | MIN | GA | 1 | 2 | 3 | Saves |
| Erin O'Neil (L, 15-7-2) | 58:57 | 3 | 12 | 7 | 9 | 28 |
| Empty Net | 1:03 | 1 | | | | |
BOSTON, Mass. - The Boston University women's ice hockey team scored two shorthanded goals in a span of 1:02 midway through the third period, but Vermont added a late empty-netter to secure a 4-2 win in game two of a Hockey East quarterfinal series on Saturday afternoon at Walter Brown Arena.
BU (21-13-2) and Vermont (9-24-3) will play a decisive game three tomorrow at 3 p.m. Saturday's defeat was the first loss for BU in quarterfinal play; the Terriers entered Saturday with an 8-0 record in that round.
Sophomore Rebecca Leslie notched her NCAA-best fifth shorthanded goal and assisted on classmate Victoria Bach's shorthanded strike to cut the Vermont lead to 3-2 with 7:55 remaining in regulation. BU continued to pressure Vermont and recorded 15 shots on goal during the final period, but the Catamounts sealed the game with an empty-net goal at the 19:39 mark.
Sophomore Erin O'Neil made 28 saves for the Terriers while Madison Litchfield stopped 38 Terrier shots. BU fired 40 shots on goal and has combined for 85 shots on goal so far in the series.
Vermont broke through on the power play at the 12:00 mark of the first period before adding two goals in the second stanza to take a 3-0 lead into the third frame. It was another relatively clean game, as the teams combined for just six penalty minutes.
Leslie got the Terriers on the board at the 11:03 mark of the third period when she forced a turnover, created space for herself, and ripped home her 12th goal of the season. Just over a minute later, she set up Bach with a great drive to the net and a pass back to her classmate. Bach deposited the puck into a wide-open net for her team-leading 21st goal of the season.
With a win on Saturday, the Terriers will clinch their ninth straight Hockey East semifinal appearance.