Quick Start Helps Boston University Upend Vermont, 5-2
Junior forward Maddie Elia posts two goals and assist for Terriers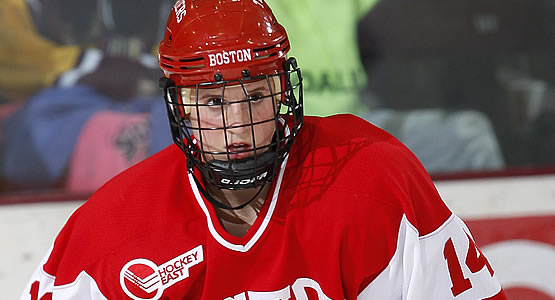 Junior forward Maddie Elia had two goals and an assist for the Terriers
| | | | | | | |
| --- | --- | --- | --- | --- | --- | --- |
| Prd | Time | Team | Score | Type | Scored By | Assists |
| 1st | 1:14 | BU | 1-0 | EV | Victoria Bach (2) | Sarah Lefort/3, Kayla Tutino/1 |
| 1st | 2:13 | BU | 2-0 | EV | Sarah Steele (1) | Alexis Woloschuk/1, Sammy Davis/1 |
| 1st | 17:08 | BU | 3-0 | EV GW | Rebecca Russo (4) | Maddie Elia/2, Sarah Steele/2 |
| 1st | 18:22 | VER | 1-3 | PP | Dayna Colang (3) | Sammy Kolowrat/1, Alyssa Gorecki/1 |
| 2nd | 19:03 | BU | 4-1 | EV | Maddie Elia (2) | Rebecca Russo/4, Rebecca Leslie/7 |
| 3rd | 10:21 | BU | 5-1 | EV | Maddie Elia (3) | Alexis Crossley/1, Sammy Davis/2 |
| 3rd | 10:45 | VER | 2-5 | EV | Rachael Ade (1) | Cassidy Campeau/1 |
| | | | | |
| --- | --- | --- | --- | --- |
| Scoring | 1st | 2nd | 3rd | Final |
| Vermont | 1 | 0 | 1 | 2 |
| Boston University | 3 | 1 | 1 | 5 |
| | | | | |
| --- | --- | --- | --- | --- |
| Shots on Goal | 1st | 2nd | 3rd | SOG |
| Vermont | 12 | 6 | 7 | 25 |
| Boston University | 11 | 13 | 15 | 39 |
| | | | |
| --- | --- | --- | --- |
| Team Stats and Records | PP | PIM | SHGF |
| Vermont (1-7-0) | 1/3 | 2/4 | 0 |
| Boston University (4-4-0) | 0/2 | 3/9 | 0 |
| | | | | | | |
| --- | --- | --- | --- | --- | --- | --- |
| Vermont Goaltending | MIN | GA | 1 | 2 | 3 | Saves |
| Molly Depew (L, 1-3-0) | 60:00 | 5 | 8 | 12 | 14 | 34 |
| | | | | | | |
| --- | --- | --- | --- | --- | --- | --- |
| Boston University Goaltending | MIN | GA | 1 | 2 | 3 | Saves |
| Erin O'Neil (W, 2-1-0) | 60:00 | 2 | 11 | 6 | 6 | 23 |
BOSTON - Junior Maddie Elia notched two goals and an assist and was one of 10 Terriers with at least one point as the No. 10 Boston University women's ice hockey team skated to a 5-2 win over Vermont on Sunday afternoon at Walter Brown Arena.
BU (4-4-0, 3-1-0 WHEA) scored the first three goals of the game and never looked back to hand Vermont (1-7-0, 1-1-0 WHEA) its first loss in league play this season. The Terriers are now 15-1-2 all-time against the Catamounts at Walter Brown Arena.
Elia recorded her first two-goal game since Nov. 15, 2014 against UConn. Freshman Sammy Davis notched her first two collegiate assists, and was joined by senior Rebecca Russo (1g, 1a) and junior Sarah Steele (1g, 1a) as Terriers with two-point afternoons. Seniors Sarah Lefort, Kayla Tutino and Alexis Woloschuk each had an assist, as did sophomore Rebecca Leslie and junior Alexis Crossley. For Crossley, it was her first point as a Terrier.
Sophomore Erin O'Neil improved to 2-1-0 on the season with a 23-save performance. Eleven of her saves came in the first frame, and she stopped 12 of the final 13 shots that she faced.
Bach opened the scoring just 1:14 into the proceedings when Tutino sprung Lefort, who created a 2-on-1 with Bach. Lefort saucered a pass to Bach, and the sophomore sent a shot past Molly Depew (34 saves) for her second goal of the season.
It took just 59 seconds for the Terriers to extend their lead thanks to a terrific individual effort by Steele. A Vermont defender blocked Steele's shot, but Steele recovered the puck in the neutral zone, skated around center ice, back into the UVM zone, and darted to the net before slipping the puck underneath Depew for her first goal of the season.
Russo extended the lead to 3-0 when she skated to the right post and met a perfectly placed Maddie Elia pass. Dayna Colang got Vermont on the board at the 18:22 mark of the opening period with a power-play goal.
Elia scored the first of her two goals with 56.5 seconds to play in the second stanza, and she then made it a 5-1 game at the 10:21 mark of the third period with a nifty deflection of a Crossley shot. Rachel Ade added a second UVM goal 23 seconds after Elia's goal, but the Terriers did not concede again. BU also killed a five-minute major during the last period, allowing just three total shot attempts during that span.
BU will have a week off before heading to New Hampshire on Sunday for a league tilt against the Wildcats. Puck drop is set for 2 p.m.