Merrimack And UConn Skate To 2-2 Tie
Freshman forward Katelyn Rae scores game-tying goal for Warriors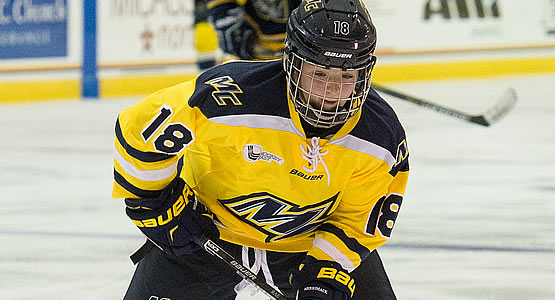 Freshman forward Katelyn Rae scored the game-tying goal for the Warriors
| | | | | | | |
| --- | --- | --- | --- | --- | --- | --- |
| Prd | Time | Team | Score | Type | Scored By | Assists |
| 2nd | 2:51 | CON | 1-0 | EV | Leah Buress (4) | Margaret Zimmer/4, Leah Lum/10 |
| 2nd | 5:11 | MER | 1-1 | EV | Madison Morey (2) | Paige Sorensen/7, Baye Flanagan/4 |
| 2nd | 12:38 | CON | 2-1 | EV | Nora Maclaine (1) | Rebecca Lindblad/1, Marisa Maccario/1 |
| 3rd | 17:21 | MER | 2-2 | EV GT | Katelyn Rae (5) | Dominique Kremer/3 |
| | | | | | |
| --- | --- | --- | --- | --- | --- |
| Scoring | 1st | 2nd | 3rd | OT | Final |
| Merrimack | 0 | 1 | 1 | 0 | 2 |
| Connecticut | 0 | 2 | 0 | 0 | 2 |
| | | | | | |
| --- | --- | --- | --- | --- | --- |
| Shots on Goal | 1st | 2nd | 3rd | OT | SOG |
| Merrimack | 10 | 11 | 3 | 4 | 28 |
| Connecticut | 10 | 4 | 6 | 3 | 23 |
| | | | |
| --- | --- | --- | --- |
| Team Stats and Records | PP | PIM | SHGF |
| Merrimack (3-19-1) | 0/2 | 0/0 | 0 |
| Connecticut (8-9-4) | 0/0 | 2/4 | 0 |
| | | | | | | | |
| --- | --- | --- | --- | --- | --- | --- | --- |
| Merrimack Goaltending | MIN | GA | 1 | 2 | 3 | OT | Saves |
| Samantha Ridgewell (T, 3-12-1) | 65:00 | 2 | 10 | 2 | 6 | 3 | 21 |
| | | | | | | | |
| --- | --- | --- | --- | --- | --- | --- | --- |
| Connecticut Goaltending | MIN | GA | 1 | 2 | 3 | OT | Saves |
| Annie Belanger (T, 5-2-3) | 65:00 | 2 | 10 | 10 | 2 | 4 | 26 |
STORRS, Conn. - The UConn women's ice hockey team finished off the weekend series 1-0-1 against Merrimack with a 2-2 draw in overtime. Freshman Nora Maclaine (Easton, Mass.) scored her first career goal as a Husky to give UConn the lead going into the third.
Sophomore goaltender Annie Belanger (Sherbrooke, Quebec) made 26 saves and recorded her third tie of the season.
The tie brings UConn's overall record to 8-9-4 and 4-6-2 in Hockey East match-ups and Merrimack earns its first tie of the season, making the Warriors' overall record to 3-19-1 and their conference record 2-11-1.
After a scoreless first period, senior Leah Buress (Windsor, Ont.) put UConn up 1-0 when she chipped one past Merrimack tendy Samantha Ridgewell. Sophomore Leah Lum (Richmond, B.C.) passed the puck up to senior Margaret Zimmer (St. Charles, Ill.) at the far face-off dot, who then sent it across to Buress who buried it in the back of the net.
Merrimack tied it up less than three minutes later to knot the score up at 1-1 with just over five minutes off the clock in the second.
UConn took its second lead of the game when Maclaine notched her first career goal to make it 2-1 going into the second intermission. Freshman Rebecca Lindblad (Winnetka, Ill.) also recorded her first career point, taking credit for the assist on Maclaine's goal. Sophomore Marisa Maccario (Marblehead, Mass.) took credit for the second assist.
Coming out of the second break, UConn held a 2-1 lead over Merrimack and the Huskies maintained that lead for the majority of the second period, but Merrimack managed to put one in the back of the net to tie things up with just over two minutes left to play in regulation.
Neither team could find the back of the net in the final two minutes and the game went into overtime. UConn took a penalty 35 seconds into extra minutes and had to play two minutes of sudden victory overtime down a player. Belanger made several crucial saves, including one off a hard shot from the point through lots of traffic.
The Huskies killed off the penalty and the score was still 2-2 with just over two minutes to play. Freshman Kayla Mee (Winnipeg, Manitoba) fired two rockets on net, but neither resulted in a goal and the game ended in a 2-2 tie.
UP NEXT...
UConn will face Providence for the first time this season in a home-and-home series starting Saturday, Jan. 16 on the road for the Huskies at Schneider Arena and then game two back home at the Freitas Ice Forum on Sunday, Jan. 17. Both games are set for a 2 p.m. start time.