Saturday, February 13, 2016
Berisoff Scores Two As UConn Edges Past Maine, 4-3
Senior forward Brittany Berisoff nets two goal for Huskies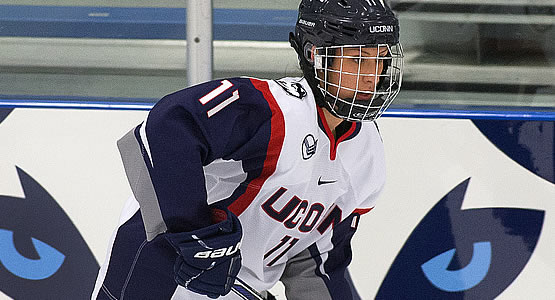 Senior forward Brittany Berisoff scored two goal for the Huskies
| | | | | | | |
| --- | --- | --- | --- | --- | --- | --- |
| Prd | Time | Team | Score | Type | Scored By | Assists |
| 1st | 6:17 | CON | 1-0 | EV | Brittany Berisoff (7) | Cydnee Cook/1 |
| 1st | 8:45 | CON | 2-0 | EV | Brittany Berisoff (8) | Caitlin Hewes/6, Leah Buress/8 |
| 1st | 19:07 | MNE | 1-2 | EV | Anna Wright (1) | Alyson Matteau/6 |
| 2nd | 13:47 | CON | 3-1 | EV | Margaret Zimmer (5) | - |
| 3rd | 5:22 | MNE | 2-3 | EV | Alyson Matteau (6) | Jess Vallotton/4, Jillian Langtry/8 |
| 3rd | 9:53 | CON | 4-2 | PP GW | Kelly Harris (4) | Leah Buress/9, Margaret Zimmer/5 |
| 3rd | 17:37 | MNE | 3-4 | EV EA | Audra Richards (14) | Mikayla Rogers/9, Brooke Stacey/9 |
| | | | | |
| --- | --- | --- | --- | --- |
| Scoring | 1st | 2nd | 3rd | Final |
| Maine | 1 | 0 | 2 | 3 |
| Connecticut | 2 | 1 | 1 | 4 |
| | | | | |
| --- | --- | --- | --- | --- |
| Shots on Goal | 1st | 2nd | 3rd | SOG |
| Maine | 8 | 19 | 9 | 36 |
| Connecticut | 6 | 4 | 7 | 17 |
| | | | |
| --- | --- | --- | --- |
| Team Stats and Records | PP | PIM | SHGF |
| Maine (10-21-2) | 0/4 | 4/8 | 0 |
| Connecticut (14-13-5) | 1/4 | 4/8 | 0 |
| | | | | | | |
| --- | --- | --- | --- | --- | --- | --- |
| Maine Goaltending | MIN | GA | 1 | 2 | 3 | Saves |
| Meghann Treacy (L, 9-18-2) | 58:37 | 4 | 4 | 3 | 6 | 13 |
| Empty Net | 1:23 | 0 | | | | |
| | | | | | | |
| --- | --- | --- | --- | --- | --- | --- |
| Connecticut Goaltending | MIN | GA | 1 | 2 | 3 | Saves |
| Elaine Chuli (W, 9-10-2) | 60:00 | 3 | 7 | 19 | 7 | 33 |
STORRS, Conn. - The UConn women's ice hockey team completed a two-game sweep Saturday after defeating Maine 4-3 on Senior Day. Seven of UConn's nine total points were contributed by seniors, including two-point performances from seniors Brittany Berisoff (Kelowna, B.C.), Leah Buress (Windsor, Ont.) and Margaret Zimmer (St. Charles, Ill.).
Senior goaltender Elaine Chuli (Waterford, Ont.) broke the Hockey East all-time career saves record after she delivered a 33 save performance on 36 total shots.
Berisoff opened up the scoring 6:17 into the game when she put a wrist shot from the top of the face off circles into the back of the net.
Five minutes later, Berisoff scored her second goal of the game with the assists coming to Buress and fellow senior Caitlin Hewes (Sillwater,Minn.). The Black Bears scored a goal with less than a minute left in the first period to cut the Husky advantage to one after the first period.
Chuli came out in the second period with some great saves to keep UConn up by one. At the 13:47 mark of the second, Senior Margaret Zimmer (St.Charles, Ill.) blasted a slap shot past the Maine goalie to extend the Huskies lead to 3-1 going into the third period.
Maine scored a rebound goal five minutes into the final frame to cut the Husky lead to 3-2. Less than five minutes later, junior Kelly Harris (Canton, Mich.) tapped home a rebound goal, with the assists to Buress and Zimmer, allowing the Huskies to regain a two goal lead.
With 2:23 remaining in the contest, the Black Bears scored after pulling their goalie to bring them within one goal, but the defense stood strong in the final minutes of the game, giving the Huskies a 4-3 victory.
UConn improves to 14-13-5 overall with a 10-9-3 conference record, while Maine drops to 10-21-2 overall in 6-17-1 in Hockey East play.
UP NEXT...
The Huskies hit the road for their final two games of the regular season against New Hampshire Saturday, Feb. 20 and Sunday, Feb. 21. Both games are slated for a 2 p.m. puck drop at the Whittemore Center in Durham, N.H.