UConn Huskies Upend Providence Friars, 3-1
Senior goaltender Elaine Chuli makes 29 saves for Huskies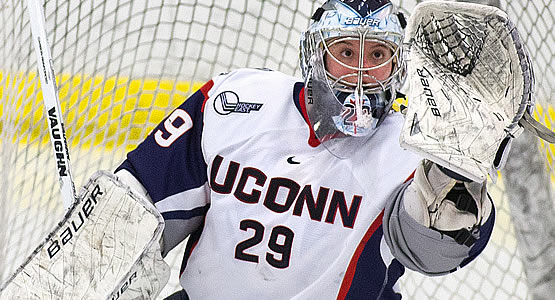 Senior goaltender Elaine Chuli made 29 saves for the Huskies
| | | | | | | |
| --- | --- | --- | --- | --- | --- | --- |
| Prd | Time | Team | Score | Type | Scored By | Assists |
| 1st | 2:53 | CON | 1-0 | EV | Rebecca Lindblad (1) | Nora Maclaine/1, Marisa Maccario/2 |
| 1st | 16:53 | CON | 2-0 | EV GW | Justine Fredette (7) | Jaime Fox/5 |
| 2nd | 9:18 | PRV | 1-2 | PP | Christina Putigna (10) | Cassidy Carels/16, Cassidy MacPherson/6 |
| 3rd | 18:52 | CON | 3-1 | EV EN | Leah Lum (8) | - |
| | | | | |
| --- | --- | --- | --- | --- |
| Scoring | 1st | 2nd | 3rd | Final |
| Providence | 0 | 1 | 0 | 1 |
| Connecticut | 2 | 0 | 1 | 3 |
| | | | | |
| --- | --- | --- | --- | --- |
| Shots on Goal | 1st | 2nd | 3rd | SOG |
| Providence | 10 | 8 | 12 | 30 |
| Connecticut | 9 | 4 | 7 | 20 |
| | | | |
| --- | --- | --- | --- |
| Team Stats and Records | PP | PIM | SHGF |
| Providence (9-20-1) | 1/4 | 5/10 | 0 |
| Connecticut (12-13-5) | 0/5 | 4/8 | 0 |
| | | | | | | |
| --- | --- | --- | --- | --- | --- | --- |
| Providence Goaltending | MIN | GA | 1 | 2 | 3 | Saves |
| Sarah Bryant (L, 0-5-0) | 58:30 | 2 | 7 | 4 | 6 | 17 |
| Empty Net | 1:30 | 1 | | | | |
| | | | | | | |
| --- | --- | --- | --- | --- | --- | --- |
| Connecticut Goaltending | MIN | GA | 1 | 2 | 3 | Saves |
| Elaine Chuli (W, 7-10-2) | 59:53 | 1 | 10 | 7 | 12 | 29 |
| Empty Net | 0:07 | 0 | | | | |
STORRS, Conn. - The UConn women's ice hockey team (12-13-3, 8-9-3 WHEA) claimed a 3-1 win against Providence (9-20-1, 5-14-1 WHEA) Sunday at the Freitas Ice Forum in Storrs.
Freshman Rebecca Lindblad (Winnetka, Ill.) scored her first career goal as a Husky 2:53 into the game to give UConn an early 1-0 lead. Freshman Nora Maclaine (Easton, Mass.) recorded her first career assist and second career point after she assisted Lindblad's goal. Sophomore Marisa Maccario (Marblehead, Mass.) took credit for the second assist, her second helper and fifth point of the season.
UConn took a solid 2-0 lead 16:53 into the first period when sophomore Justine Fredette (Winnipeg, Manitoba) tipped in a shot from freshman Jaime Fox (Unionville, Ont.).
The Huskies maintained their two-goal lead for the first half of the second period, but Providence got on the board with a power play goal that was initially waved off by the referee, but then confirmed when the play was reviewed during the next stoppage minutes after the goal.
UConn went 0-for-5 on the power play, but killed off five of six penalties to keep a 2-1 lead going into the third. Providence pulled their goalie to take a 6-on-5 advantage with less than two minutes to go to try and tie things up, but sophomore Leah Lum (Richmond, B.C.) hit an empty net goal from the opposite zone to seal it 3-1 right at the end.
Senior goaltender Elaine Chuli (Waterford, Ont.) stopped 29 pucks for her seventh win of the season. Her 29 save performance brings her career total in Hockey East games to 2,072 save which is just 71 saves away from breaking the Hockey East career record currently held by Roxanne Douville with 2,143.
UP NEXT...
The Huskies will host Maine for two games Friday, Feb. 12 at 7 p.m. and on Saturday, Feb. 13 at 2 p.m. for Senior Day at the Freitas Ice Forum in Storrs.