Knutson Hat Trick Leads UConn Past Providence, 5-2
Sophomore forward Theresa Knutson scores hat trick for Huskies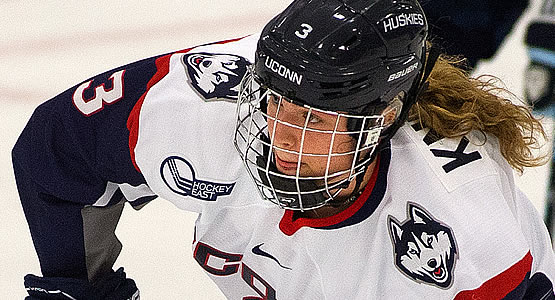 Sophomore forward Theresa Knutson scored a hat trick for the Huskies
| | | | | | | |
| --- | --- | --- | --- | --- | --- | --- |
| Prd | Time | Team | Score | Type | Scored By | Assists |
| 1st | 2:50 | CON | 1-0 | EV | Kelly Harris (2) | Kayla Mee/8 |
| 1st | 8:27 | CON | 2-0 | EV | Leah Lum (3) | Leah Buress/5 |
| 1st | 14:16 | PRV | 1-2 | PP | Blair Parent (2) | Lexi Romanchuk/9, Cassidy Carels/14 |
| 2nd | 10:23 | PRV | 2-2 | EV | Cassidy Carels (6) | Kate Friesen/4 |
| 2nd | 15:28 | CON | 3-2 | PP GW | Theresa Knutson (10) | Kelly Harris/4, Jaime Fox/4 |
| 3rd | 13:32 | CON | 4-2 | EV | Theresa Knutson (11) | Justine Fredette/14 |
| 3rd | 15:11 | CON | 5-2 | EV | Theresa Knutson (12) | Justine Fredette/15 |
| | | | | |
| --- | --- | --- | --- | --- |
| Scoring | 1st | 2nd | 3rd | Final |
| Providence | 1 | 1 | 0 | 2 |
| Connecticut | 2 | 1 | 2 | 5 |
| | | | | |
| --- | --- | --- | --- | --- |
| Shots on Goal | 1st | 2nd | 3rd | SOG |
| Providence | 8 | 13 | 10 | 31 |
| Connecticut | 11 | 9 | 5 | 25 |
| | | | |
| --- | --- | --- | --- |
| Team Stats and Records | PP | PIM | SHGF |
| Providence (8-15-1) | 1/5 | 5/10 | 0 |
| Connecticut (9-9-5) | 1/5 | 5/10 | 0 |
| | | | | | | |
| --- | --- | --- | --- | --- | --- | --- |
| Providence Goaltending | MIN | GA | 1 | 2 | 3 | Saves |
| Madison Myers (L, 7-10-1) | 60:00 | 5 | 9 | 8 | 3 | 20 |
| | | | | | | |
| --- | --- | --- | --- | --- | --- | --- |
| Connecticut Goaltending | MIN | GA | 1 | 2 | 3 | Saves |
| Elaine Chuli (W, 4-7-2) | 60:00 | 2 | 7 | 12 | 10 | 29 |
STORRS, Conn. - A hat trick from sophomore Theresa Knutson (Onalaska, Wis.) helped the UConn women's ice hockey team breeze past Providence 5-2 on Sunday in game-two of the weekend series.
The win lifted UConn to a 9-9-5 overall record and a 5-6-3 conference slate while Providence dropped to 8-15-1 overall and 4-9-1 in Hockey East.
Junior Kelly Harris (Canton, Mich.) gave the Huskies an early 1-0 lead after she snuck it under the pads of Providence goalie Madison Myers three minutes into the game. Freshman Kayla Mee (Winnipeg, Manitoba) picked up credit for the assist.
Sophomore Leah Lum (Richmond, B.C.) extended UConn's lead five minutes later to put the Huskies up 2-0 less than ten minutes into the game. Senior Leah Buress (Windsor, Ont.) earned the helper, her fifth assist of the season.
Providence cut the lead with just over five minutes to play in the first period to make the score 2-1 going into the first intermission with the Huskies on top.
After a quiet start to the second period, the Friars knotted up the score 2-2 at 10:23 in the middle frame. Less than five minutes later, Providence was called for back-to-back penalties and UConn went up on a two-man advantage.
Knutson broke the tie when she scored her first of three 15:28 into the second period to give the Huskies a 3-2 lead. The goal was set up on the 5-on-3 when Harris passed it down to freshman Jaime Fox (Unionville, Ont.) who crossed it in front to Knutson who knocked it in a wide open back door.
Senior goaltender Elaine Chuli (Waterford, Ont.) made a difficult and crucial save with two minutes on the clock in the second to preserve UConn's 3-2 lead headed into the third. Chuli finished the game with 29 saves and her season record improves to 4-7-2.
The Huskies maintained a 3-2 lead for the majority of the third period, until Knutson knocked in two insurance goals, one at 13:32 and the other less than two minutes later at 15:11, to round out her first career hat trick and solidify the Husky win 5-2. Classmate Justine Fredette (Winnipeg, Manitoba) assisted both of Knutson's insurance goals.
UP NEXT...
UConn will play its third-straight home-and-home series. This time the Huskies battle the Huskies of Northeastern. The series is set to begin Friday, Jan. 22 at 7 p.m. on the road at Matthews Arena in Boston and game-two will be back at home at the Freitas Ice Forum at 3 p.m. on Saturday, Jan. 23.