Sunday, November 29, 2015
Vermont Falls To Cornell, 4-0, At Windjammer Classic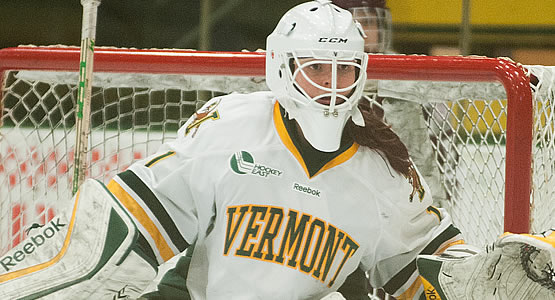 Sophomore goaltender Molly Depew made 19 saves for the Catamounts
| | | | | | | |
| --- | --- | --- | --- | --- | --- | --- |
| Prd | Time | Team | Score | Type | Scored By | Assists |
| 1st | 17:04 | COR | 1-0 | EV GW | Sarah Knee (1) | Hanna Bunton/5, Micah Hart/4 |
| 2nd | 2:52 | COR | 2-0 | PP | Cassandra Poudrier (3) | Micah Hart/5, Kaitlin Doering/6 |
| 2nd | 16:02 | COR | 3-0 | PP | Taylor Woods (4) | Erin O'Connor/4, Cassandra Poudrier/5 |
| 3rd | 6:03 | COR | 4-0 | PP | Pippy Gerace (4) | Erin O'Connor/5, Cassandra Poudrier/6 |
| | | | | |
| --- | --- | --- | --- | --- |
| Scoring | 1st | 2nd | 3rd | Final |
| Cornell | 1 | 2 | 1 | 4 |
| Vermont | 0 | 0 | 0 | 0 |
| | | | | |
| --- | --- | --- | --- | --- |
| Shots on Goal | 1st | 2nd | 3rd | SOG |
| Cornell | 3 | 11 | 9 | 23 |
| Vermont | 9 | 1 | 6 | 16 |
| | | | |
| --- | --- | --- | --- |
| Team Stats and Records | PP | PIM | SHGF |
| Cornell (5-5-2) | 3/7 | 3/6 | 0 |
| Vermont (3-13-0) | 0/3 | 7/14 | 0 |
| | | | | | | |
| --- | --- | --- | --- | --- | --- | --- |
| Cornell Goaltending | MIN | GA | 1 | 2 | 3 | Saves |
| Paula Voorheis (W, 3-3-1) | 60:00 | 0 | 9 | 1 | 6 | 16 |
| | | | | | | |
| --- | --- | --- | --- | --- | --- | --- |
| Vermont Goaltending | MIN | GA | 1 | 2 | 3 | Saves |
| Molly Depew (L, 2-6-0) | 60:00 | 4 | 2 | 9 | 8 | 19 |
BURLINGTON, Vt. - The Cornell Big Red scored three power play goals as they defeated Vermont 4-0 Sunday afternoon at Gutterson Fieldhouse to claim the 2015 Windjammer Classic.
Vermont got off to a great start in the first period outshooting the Big Red 5-0 in the first 10 minutes. Cornell junior Paula Voorheis made several critical saves to keep the game scoreless.
After killing off a Vermont power play opportunity the Big Red scored first with 2:56 remaining in the opening stanza. In transition Micah Hart passed across the slot to Hannah Bunton who quickly fired a shot towards Vermont's Molly Depew. Right in front of the net Sarah Knee deflected the shot past Depew for her first goal of the season.
The Big Red extended their lead to two with a power play tally 2:52 into the second period. Cassandra Poudrier gathered a pass from Hart at the point and fired a slap shot that found the back of the net through traffic. Poudrier's fourth goal of the season was also assisted by Kaitlin Doering.
With 3:58 left in the second period Cornell added another power play goal to secure a three-goal lead heading to the third period. Erin O'Connor fired a shot towards the net and Taylor Woods was able to get a stick on it and redirect it past Depew for her fourth goal of the season. Poudrier picked up her second point of the night with an assist on the goal.
The Big Red added a third power play goal 6:03 into the third period. Erin O'Connor passed down along the boards to Pippy Gerace and she labeled a wrist shot for the top corner past Depew for her second goal of the weekend. Poudrier made it a three-point afternoon for herself once again picking up the secondary assist.
"It was the best of times and the worst of times at Gutterson for us today," said head coach Jim Plumer. "We can't play any better than we did in the first period and then followed it up with the opposite in the second period. Credit to Cornell for weathering our storm and taking advantage on the power play. Congrats to them for winning the inaugural Windjammer Classic."