Saturday, February 6, 2016
Vallotton Hat Trick Paces Maine Past Merrimack, 4-0
Junior defenseman Jess Vallotton nets hat trick for Black Bears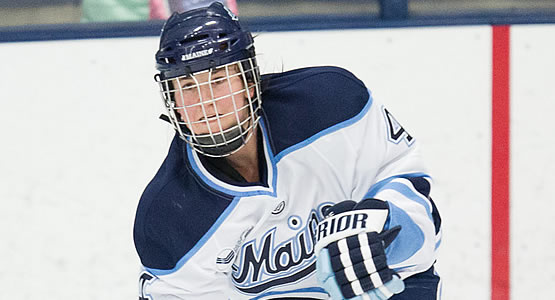 Junior defenseman Jess Vallotton scored a hat trick for the Black Bears
| | | | | | | |
| --- | --- | --- | --- | --- | --- | --- |
| Prd | Time | Team | Score | Type | Scored By | Assists |
| 1st | 8:36 | MNE | 1-0 | EV GW | Jess Vallotton (2) | Eve Boissonneault/1, Kelsey MacSorley/2 |
| 1st | 12:05 | MNE | 2-0 | EV | Jess Vallotton (3) | Nicole Arnold/4, Cailey Hutchison/1 |
| 1st | 12:40 | MNE | 3-0 | PP | Brooke Stacey (9) | Catherine Tufts/4, Alyson Matteau/5 |
| 3rd | 12:12 | MNE | 4-0 | EV | Jess Vallotton (4) | Brooke Stacey/8 |
| | | | | |
| --- | --- | --- | --- | --- |
| Scoring | 1st | 2nd | 3rd | Final |
| Merrimack | 0 | 0 | 0 | 0 |
| Maine | 3 | 0 | 1 | 4 |
| | | | | |
| --- | --- | --- | --- | --- |
| Shots on Goal | 1st | 2nd | 3rd | SOG |
| Merrimack | 4 | 7 | 8 | 19 |
| Maine | 8 | 5 | 8 | 21 |
| | | | |
| --- | --- | --- | --- |
| Team Stats and Records | PP | PIM | SHGF |
| Merrimack (4-24-1) | 0/4 | 2/4 | 0 |
| Maine (9-19-2) | 1/2 | 4/8 | 0 |
| | | | | | | |
| --- | --- | --- | --- | --- | --- | --- |
| Merrimack Goaltending | MIN | GA | 1 | 2 | 3 | Saves |
| Samantha Ridgewell (L, 4-17-1) | 60:00 | 4 | 5 | 5 | 7 | 17 |
| | | | | | | |
| --- | --- | --- | --- | --- | --- | --- |
| Maine Goaltending | MIN | GA | 1 | 2 | 3 | Saves |
| Meghann Treacy (W, 8-16-2) | 60:00 | 0 | 4 | 7 | 8 | 19 |
ORONO, Maine - Meghann Treacy stopped all 19 shots faced in her 4th shutout of the season (8th of her career) as the Black Bears cruised past Merrimack 4-0 in their Saturday afternoon showdown.
Treacy was aided by Junior Forward Jessica Vallotton who scored a hat trick, the first of which came in the first period as he skated the puck into the offensive zone and snuck it past Merrimack goaltender Samantha Ridgewell 8:36 into the period. Jessica would score her second goal 12:05 into the period on a rebound from Nicole Arnold, who was originally fed from Cailey Hutchison for her first assist of her career.
Less than 10 seconds later Maine would go on the power play and score within the minute at 12:40 into the period on a power play goal by Brooke Stacey for her 9th goal of the season, assisted by Catherine Tufts and Alyson Matteau. Maine ended the first period with a 3-0 lead.
The score would remain 3-0 for a period and a half when Jessica Vallotton got her 4th goal of the season, 3rd of the game, 12:12 into the third period right in front of the crease; assisting on the play was Brooke Stacey.
Maine ended the game 1/2 on the power play, Merrimack 0/4, and the shots were mostly even throughout the game as Maine ended with 21 and Merrimack ended with 19. Ridgewell falls to 4-17-1 on the season, stopping 17 of 21 shots faced; Treacy improves to 8-16-2.
The two teams will meet again Sunday, February 7th and 2pm for Senior Day.