Sunday, February 14, 2016
Merrimack College Rallies To Tie Providence College, 2-2
Freshman forward Madison Morey scores game-tying goal for Warriors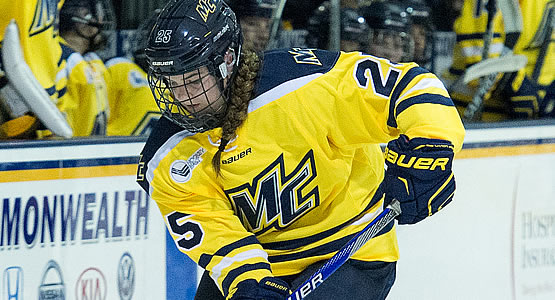 Freshman forward Madison Morey scored the game-tying goal for the Warriors
| | | | | | | |
| --- | --- | --- | --- | --- | --- | --- |
| Prd | Time | Team | Score | Type | Scored By | Assists |
| 1st | 14:55 | PRV | 1-0 | PP | Lexi Romanchuk (5) | Cassidy Carels/19, Cassidy MacPherson/9 |
| 2nd | 3:49 | PRV | 2-0 | EV | Courtney Kukowski (1) | Kendra Goodrich/3 |
| 2nd | 7:20 | MER | 1-2 | PP | Paige Voight (10) | Katelyn Rae/9, Paige Sorensen/9 |
| 3rd | 9:13 | MER | 2-2 | PP GT | Madison Morey (3) | Jackie Pieper/5, Paige Sorensen/10 |
| | | | | | |
| --- | --- | --- | --- | --- | --- |
| Scoring | 1st | 2nd | 3rd | OT | Final |
| Merrimack | 0 | 1 | 1 | 0 | 2 |
| Providence | 1 | 1 | 0 | 0 | 2 |
| | | | | | |
| --- | --- | --- | --- | --- | --- |
| Shots on Goal | 1st | 2nd | 3rd | OT | SOG |
| Merrimack | 8 | 5 | 6 | 1 | 20 |
| Providence | 15 | 12 | 9 | 6 | 42 |
| | | | |
| --- | --- | --- | --- |
| Team Stats and Records | PP | PIM | SHGF |
| Merrimack (4-26-2) | 2/4 | 4/8 | 0 |
| Providence (10-20-2) | 1/4 | 4/8 | 0 |
| | | | | | | | |
| --- | --- | --- | --- | --- | --- | --- | --- |
| Merrimack Goaltending | MIN | GA | 1 | 2 | 3 | OT | Saves |
| Samantha Ridgewell (T, 4-19-2) | 64:57 | 2 | 14 | 11 | 9 | 6 | 40 |
| Empty Net | 0:03 | 0 | | | | | |
| | | | | | | | |
| --- | --- | --- | --- | --- | --- | --- | --- |
| Providence Goaltending | MIN | GA | 1 | 2 | 3 | OT | Saves |
| Madison Myers (T, 9-12-2) | 65:00 | 2 | 8 | 4 | 5 | 1 | 18 |
PROVIDENCE, R.I. - The Providence College women's hockey team tied Merrimack College, 2-2. Merrimack scored two power play goals to come back from a two-goal deficit. The Friars moved to 10-20-2 (6-14-2 WHEA) and the Warriors moved to 4-26-2 (2-18-2 WHEA).
Providence took the lead with a power play goal from Lexi Romanchuk (San Jose, Calif.) at 14:55 in the first period. Cassidy MacPherson (Oakville, Ontario) passed the puck from the top of the circles to Cassidy Carels (Bruxelles, Manitoba) along the goal line. Carels fed Romanchuk on the point where she walked the puck in and took a slap shot that hit the post and went in.
The Friars took a two-goal lead just under four minutes into the second period when Kendra Goodrich (Apple Valley, Minn.) sent the puck towards the Merrimack goal and caught Samanatha Ridgewell sliding across the crease. Courtney Kukowski (Apple Valley, Minn.) was at the back door and tipped the puck into the open net.
Providence went down on a five-on-three and Merrimack's Paige Voight scored at the 7:20 minute mark.
Merrimack evened the score mid way through the third period with a power play goal from Maddie Morey.
Neither team was able to convert for a lead, and the game was sent into overtime. The Friars outshot the Warriors six to two in the five-minute overtime period.
The Friars outshot the Warriors 42 to 20.
Madison Myers started for the Friars and tallied 18 saves.
Providence is back in action on Feb. 19 at Conte Forum to face top ranked Boston College. The home-and-home weekend will be the last games of the regular season for the Friars.