Friday, September 25, 2015
Merrimack College Opens Women's Hockey Era With 4-2 Win Over Whitby Wolves
Junior forward Marie Delarbre posts goal and assist for Warriors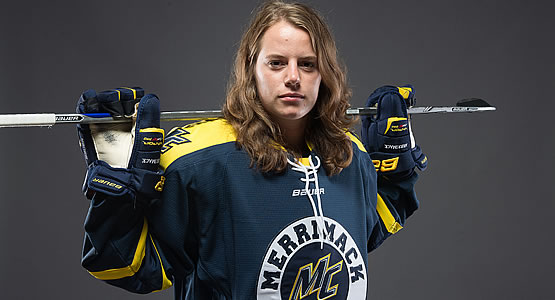 Junior forward Marie Delarbre had a goal and an assist for the Warriors
| | | | | | | |
| --- | --- | --- | --- | --- | --- | --- |
| Prd | Time | Team | Score | Type | Scored By | Assists |
| 1st | 6:19 | MER | 1-0 | EV | Marie Delarbre | Madison Morey |
| 1st | 13:08 | WTB | 1-1 | EV | Samantha Isbell | - |
| 3rd | 1:35 | MER | 2-1 | EV | Beatrice Dufour | Marie Delarbre |
| 3rd | 7:02 | MER | 3-1 | EV GW | Emily Volpe | - |
| 3rd | 9:38 | WTB | 2-3 | EV | Briana Colangelo | Samantha Isbell |
| 3rd | 10:38 | MER | 4-2 | EV | Jackie Pieper | - |
| | | | | |
| --- | --- | --- | --- | --- |
| Scoring | 1st | 2nd | 3rd | Final |
| Whitby Wolves | 1 | 0 | 1 | 2 |
| Merrimack | 1 | 0 | 3 | 4 |
| | | | | |
| --- | --- | --- | --- | --- |
| Shots on Goal | 1st | 2nd | 3rd | SOG |
| Whitby Wolves | 5 | 7 | 6 | 18 |
| Merrimack | 5 | 6 | 12 | 23 |
| | | | |
| --- | --- | --- | --- |
| Team Stats and Records | PP | PIM | SHGF |
| Whitby Wolves | 0/1 | 3/6 | 0 |
| Merrimack | 0/3 | 1/2 | 0 |
| | | | | | | |
| --- | --- | --- | --- | --- | --- | --- |
| Whitby Wolves Goaltending | MIN | GA | 1 | 2 | 3 | Saves |
| Emma Schram (L) | 59:37 | 4 | 4 | 6 | 9 | 19 |
| Empty Net | 0:23 | 0 | | | | |
| | | | | | | |
| --- | --- | --- | --- | --- | --- | --- |
| Merrimack Goaltending | MIN | GA | 1 | 2 | 3 | Saves |
| Samantha Ridgewell | 20:00 | 1 | 4 | 0 | 0 | 4 |
| Kate Kowalchuk | 19:56 | 0 | 0 | 7 | 0 | 7 |
| Chaislyn Burgio (W) | 20:00 | 1 | 0 | 0 | 5 | 5 |
| Empty Net | 0:04 | 0 | | | | |
NO. ANDOVER, Mass. - Junior forward Marie Delarbre registered a goal and an assist as Merrimack College posted a 4-2 win against the Whitby Wolves in exhibition action on Friday night at Lawler Rink.
With the anticipation building up to this game for over two years, the Warriors came out of the gate flying. Junior Marie Delarbre (Fussen, Germany), one of the original four recruits to the women's program and designated captain for this exhibition, got the scoring started for the Warriors. Delarbre crashed the net as freshman Madison Morey (Fairbanks, Alaska) drove in from the right side with the puck. Morey's shot would be saved by the goalie, but Delarbre was there to clean up the rebound for the first score.
Whitby would answer, scoring six minutes later in the first period to tie the game at one. After two quick goals, the goalies shook off the cobwebs and kept the game tied at one until the third period.
Just a minute and a half into the third, freshman defenseman Beatrice Dufour (Sarnia, Ontario) ripped a wrist shot from the point that would find the back of the net to put the Warriors up two. Delarbre would assist on the goal, finding Dufour just inside the blue line.
At the seven-minute mark in the third period, freshman Emily Volpe (Whitby, Ontario) would score against her former squad, firing a quick snapshot from the side of the net that would sneak by the goalie and the near post for the insurance goal.
Just over two minutes later, sophomore Jackie Pieper (Edina, Minn.) forced a turnover in the offensive zone, creating a breakaway for herself that she put five-hole on the goalie for the fourth Merrimack goal of the game. Whitby would respond with a goal to cut the lead to two, but it would not be enough.
Head coach Erin Hamlen gave all three of her goalies a shot in the exhibition, with sophomore Chaislyn Burgio (Quincy, Mass.), another member of the original-four, playing the third period and being credited with the win.
The Warriors will play their first-ever Division I regular-season game Friday, Oct. 2 at Lawler Rink against St. Cloud State at 6:00 p.m.