Saturday, January 16, 2016
Krizova Nets Hat Trick As Northeastern Topples Maine, 8-1
Sophomore forward Denisa Krizova has hat trick and two assists for Huskies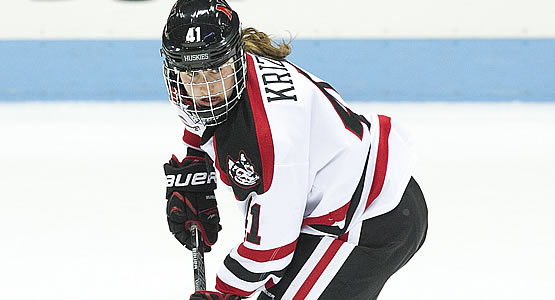 Sophomore forward Denisa Krizova has hat trick and two assists for Huskies
| | | | | | | |
| --- | --- | --- | --- | --- | --- | --- |
| Prd | Time | Team | Score | Type | Scored By | Assists |
| 1st | 5:27 | NOE | 1-0 | EV | Hayley Scamurra (12) | Kendall Coyne/21, Denisa Křížová/26 |
| 2nd | 2:44 | NOE | 2-0 | EV GW | Shelby Herrington (10) | Christina Zalewski/4, Kasidy Anderson/8 |
| 2nd | 8:17 | NOE | 3-0 | PP | Paige Savage (8) | Kendall Coyne/22, Denisa Křížová/27 |
| 2nd | 12:19 | NOE | 4-0 | EV | Kasidy Anderson (7) | Maddie Hartman/8, Tori Hickel/6 |
| 2nd | 13:21 | NOE | 5-0 | EV | Denisa Křížová (11) | Kendall Coyne/23, Hayley Scamurra/19 |
| 2nd | 19:40 | NOE | 6-0 | EV | Denisa Křížová (12) | Kendall Coyne/24 |
| 3rd | 5:22 | NOE | 7-0 | EV | Denisa Křížová (13) | Kendall Coyne/25, Tori Hickel/7 |
| 3rd | 5:52 | NOE | 8-0 | EV | Melissa Haganey (2) | Taytum Clairmont/5, Hayley Masters/4 |
| 3rd | 8:11 | MNE | 1-8 | EV | Audra Richards (10) | Victoria Hummel/3, Mikayla Rogers/7 |
| | | | | |
| --- | --- | --- | --- | --- |
| Scoring | 1st | 2nd | 3rd | Final |
| Maine | 0 | 0 | 1 | 1 |
| Northeastern | 1 | 5 | 2 | 8 |
| | | | | |
| --- | --- | --- | --- | --- |
| Shots on Goal | 1st | 2nd | 3rd | SOG |
| Maine | 7 | 10 | 6 | 23 |
| Northeastern | 14 | 26 | 24 | 64 |
| | | | |
| --- | --- | --- | --- |
| Team Stats and Records | PP | PIM | SHGF |
| Maine (7-15-2) | 0/5 | 3/6 | 0 |
| Northeastern (19-4-1) | 1/2 | 6/12 | 0 |
| | | | | | | |
| --- | --- | --- | --- | --- | --- | --- |
| Maine Goaltending | MIN | GA | 1 | 2 | 3 | Saves |
| Meghann Treacy (L, 6-13-2) | 33:21 | 5 | 13 | 13 | 0 | 26 |
| Mariah Fujimagari | 26:39 | 3 | 0 | 8 | 22 | 30 |
| | | | | | | |
| --- | --- | --- | --- | --- | --- | --- |
| Northeastern Goaltending | MIN | GA | 1 | 2 | 3 | Saves |
| Brittany Bugalski (W, 13-3-1) | 59:51 | 1 | 7 | 10 | 5 | 22 |
| Empty Net | 0:09 | 0 | | | | |
BOSTON - Sophomore Denisa Krizova scored her second collegiate hat trick and senior Kendall Coyne tied a career high with five assists as the No. 7 Northeastern women's hockey team (19-4-1, 14-2-0 WHEA) flexed its offensive muscles in an 8-1 win over Maine (7-15-2, 3-11-1 WHEA) on Saturday at Matthews Arena.
Krizova also added two assists for her first career five-point game, while Coyne notched her second straight five-point effort after posting two goals and three assists on Wednesday at Providence. Junior Hayley Scamurra and freshman Kasidy Anderson each notched a goal and an assist, and sophomore Shelby Herrington, redshirt junior Paige Savage and junior Melissa Haganey also scored as the Huskies won their eighth straight game.
In total, 12 different Northeastern players registered at least one point as the Huskies fired a season-high 64 shots on goal and scored at least eight goals for the third time this season.
Freshman Brittany Bugalski was solid in goal, stopping 22 of 23 shots to improve to 3-0-0 in 2016.
Goal Recaps
- Scamurra scored for the fourth straight game to put NU ahead 1-0 at 5:27 of the first period. After Krizova drove hard to the net, Coyne prodded the puck loose in the slot and Scamurra fired home the rebound at the right of the net.
- Northeastern doubled the lead at 2:44 of the second period on a beautiful play by Herrington. After exchanging passes with sophomore Christina Zalewski in the right corner, Herrington cut to the front of the net and slid a shot under the pads of Meghann Treacy (26 saves) to make it 2-0.
- Savage extended the lead to 3-0 with a power-play goal at 8:17 of the middle frame, redirecting a Coyne blast past Treacy from between the circles.
- Anderson made it 4-0 at 12:19 of the second when she took a beautiful outlet from freshman Maddie Hartman and ripped a shot inside the near post from the left wing.
- Just 1:02 later, NU pushed the lead to 5-0 when Coyne made a beautiful play behind the net to stave off a defender, before centering for Krizova for a one-timer at 13:21.
- Coyne and Krizova combined again at 19:40 for the Huskies' fifth goal of the period. After an errant pass in the neutral zone, Coyne picked up the puck and sprung Krizova, who made a beautiful deke in the crease to fool backup netminder Mariah Fujimagari (30 saves) to make it 6-0.
- Krizova completed the natural hat trick 5:22 into the third period with a skillful redirection of a Coyne shot in front of the net to make it 7-0.
- Just 30 seconds later, Haganey scraped home a loose puck in the crease off a feed from sophomore Taytum Clairmont to push the scoreline to 8-0 with 14 minutes remaining.
- Maine got on the board with 8:11 to play when Audra Richards nudged home a loose puck in the slot amidst heavy traffic.
Stats of the Game
- Northeastern won its eighth straight game and posted its second eight-game winning streak of the season. The only other team in NU history to post two separate eight-game winning streaks in the same season was the 1987-88 squad that finished 26-0-1 (won 11 games, tied, then won 15 games).
- The Huskies fired a season-high 64 shots on goal, including 26 in the second period and 24 in the third period.
- The Huskies scored five goals in the second period; NU has netted five goals in a frame three times this season. • Coyne notched her third straight game with at least four points, and her second straight five-point game.
- Coyne racked up five assists for the second time in her career (Nov. 3, 2012 vs. UConn).
- Coyne has tallied 14 points in her last three games (five goals, nine assists).
- Krizova tallied her first collegiate five-point game, and her third game of at least four points this season.
- Savage extended her point streak to five games (two goals, five assists).
- Scamurra scored for the fourth straight game and posted her fourth straight multi-point effort.
- Twelve different Huskies notched at least a point.
Up Next
The Huskies will try for their 20th win of the season on Alumnae Day Sunday against Maine at 2 p.m.