Saturday, September 26, 2015
Northeastern Skates To 2-2 Tie At St. Lawrence
Senior forward Kendall Coyne and sophomore forward Shelby Herrington score goals for Huskies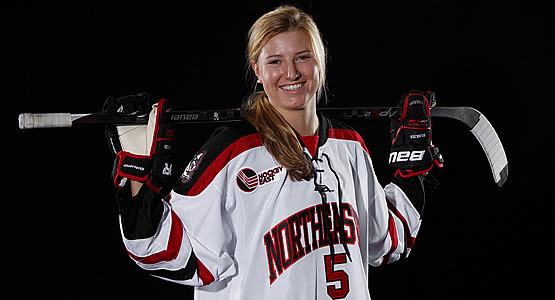 Sophomore forward Shelby Herrington scored a goal for the Huskies
| | | | | | | |
| --- | --- | --- | --- | --- | --- | --- |
| Prd | Time | Team | Score | Type | Scored By | Assists |
| 1st | 3:01 | STL | 1-0 | PP | Kennedy Marchment (1) | Brooke Webster/1 |
| 1st | 13:16 | NOE | 1-1 | EV | Kendall Coyne (1) | Jordan Krause/1, Hayley Scamurra/1 |
| 2nd | 9:56 | NOE | 2-1 | EV | Shelby Herrington (1) | Christina Zalewski/1 |
| 2nd | 13:09 | STL | 2-2 | PP GT | Kennedy Marchment (2) | Jenna Marks/1, Amanda Boulier/1 |
| | | | | | |
| --- | --- | --- | --- | --- | --- |
| Scoring | 1st | 2nd | 3rd | OT | Final |
| Northeastern | 1 | 1 | 0 | 0 | 2 |
| St. Lawrence | 1 | 1 | 0 | 0 | 2 |
| | | | | | |
| --- | --- | --- | --- | --- | --- |
| Shots on Goal | 1st | 2nd | 3rd | OT | SOG |
| Northeastern | 15 | 9 | 11 | 2 | 37 |
| St. Lawrence | 5 | 12 | 11 | 1 | 29 |
| | | | |
| --- | --- | --- | --- |
| Team Stats and Records | PP | PIM | SHGF |
| Northeastern (0-0-1) | 0/1 | 4/8 | 0 |
| St. Lawrence (0-0-1) | 2/3 | 2/4 | 0 |
| | | | | | | | |
| --- | --- | --- | --- | --- | --- | --- | --- |
| Northeastern Goaltending | MIN | GA | 1 | 2 | 3 | OT | Saves |
| Brittany Bugalski (T, 0-0-1) | 65:00 | 2 | 4 | 11 | 11 | 1 | 27 |
| | | | | | | | |
| --- | --- | --- | --- | --- | --- | --- | --- |
| St. Lawrence Goaltending | MIN | GA | 1 | 2 | 3 | OT | Saves |
| Brooke Wolejko | 20:00 | 1 | 14 | 0 | 0 | 0 | 14 |
| Grace Harrison (T, 0-0-1) | 20:00 | 1 | 0 | 8 | 0 | 0 | 8 |
| Sonjia Shelly | 25:00 | 0 | 0 | 0 | 11 | 2 | 13 |
CANTON, N.Y. - Goals by senior Kendall Coyne and sophomore Shelby Herrington helped the Northeastern women's hockey team (0-0-1) earn a 2-2 tie at St. Lawrence (0-0-1) in the 2015-16 season opener Saturday at Appleton Arena.
Freshman goaltender Brittany Bugalski turned in an excellent debut performance with 27 saves, including 11 in the third period, while Herrington potted her first collegiate goal in the tie.
Goal Recaps
- St. Lawrence opened the scoring just 3:01 into the game when Kennedy Marchment skated in on a breakaway and chipped a shot over the right pad of Bugalski on the power play.
- Northeastern answered at the 13:16 mark when Coyne tucked home a rebound at the right of the net after Jordan Krause's point-shot was initially stopped by SLU netminder Brooke Wolejko.
- The Huskies then took the lead just 53 seconds in the second period. After sophomore Christina Zalewski forced a turnover in the SLU end, Herrington picked up the puck on the left wing and fired a shot off a Saints' defender and into the upper left corner of the net to make it 2-1.
- The hosts equalized with another Marchment power-play goal at 13:09 of the frame. On a tic-tac-toe passing play, Jenna Marks threw the puck into the low slot, where Marchment was able to redirect the puck under the crossbar.
Stats of the Game
- The Huskies held a 37-29 edge in shots on goal and a 23-22 advantage in faceoffs.
- Coyne scored her 92nd career goal and led all players with nine shots.
- SLU went 2-for-3 on the power play, while the Huskies went 0-for-1.
Up Next
- The Huskies and Saints will close out the weekend series on Sunday with a 12 p.m. puck drop.