Balanced Attack Sends Providence College Past RIT, 5-1
Senior forward Brittney Thunstrom scores game-winning goal for Friars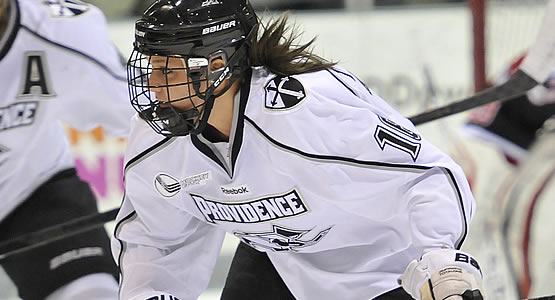 Senior forward Brittney Thunstrom scored the game-winning goal for the Friars
| | | | | | | |
| --- | --- | --- | --- | --- | --- | --- |
| Prd | Time | Team | Score | Type | Scored By | Assists |
| 1st | 18:22 | PRV | 1-0 | EV | Madison Sansone (9) | Lexi Romanchuk/8 |
| 2nd | 17:35 | PRV | 2-0 | EV GW | Brittney Thunstrom (5) | Courtney Kukowski/4, Danielle Hardy/4 |
| 3rd | 1:19 | PRV | 3-0 | EV | Cassidy MacPherson (1) | Christina Putigna/14 |
| 3rd | 4:54 | PRV | 4-0 | EV | Blair Parent (1) | - |
| 3rd | 15:45 | RIT | 1-4 | EV | Kendall Cornine (3) | Reagan Rust/7 |
| 3rd | 18:32 | PRV | 5-1 | PP | Kate Friesen (5) | Brooke Boquist/7, Emily Landry/5 |
| | | | | |
| --- | --- | --- | --- | --- |
| Scoring | 1st | 2nd | 3rd | Final |
| RIT | 0 | 0 | 1 | 1 |
| Providence | 1 | 1 | 3 | 5 |
| | | | | |
| --- | --- | --- | --- | --- |
| Shots on Goal | 1st | 2nd | 3rd | SOG |
| RIT | 3 | 5 | 5 | 13 |
| Providence | 15 | 12 | 21 | 48 |
| | | | |
| --- | --- | --- | --- |
| Team Stats and Records | PP | PIM | SHGF |
| RIT (4-16-1) | 0/4 | 3/6 | 0 |
| Providence (7-13-0) | 1/3 | 4/8 | 0 |
| | | | | | | |
| --- | --- | --- | --- | --- | --- | --- |
| RIT Goaltending | MIN | GA | 1 | 2 | 3 | Saves |
| Jetta Rackleff (L, 0-3-1) | 60:00 | 5 | 14 | 11 | 18 | 43 |
| | | | | | | |
| --- | --- | --- | --- | --- | --- | --- |
| Providence Goaltending | MIN | GA | 1 | 2 | 3 | Saves |
| Madison Myers (W, 6-8-0) | 59:45 | 1 | 3 | 5 | 4 | 12 |
| Empty Net | 0:15 | 0 | | | | |
PROVIDENCE, R.I. - The Providence College women's ice hockey team defeated the RIT Tigers, 5-1. Eleven different Friars notched a point to help the Friars to their seventh win of the season. The Friars advance to 7-13-0 and the Tigers move to 5-16-1.
The Friars struck first with 1:38 remaining in the first period. After killing a penalty, Lexi Romanchuk (San Jose, Calif.) battled for the puck along the boards in the neutral zone and fed Madison Sansone (Lockport, N.Y.). Sansone carried the puck into the offensive zone and threw a bouncing puck at the net that beat RIT's Jetta Rackleff to the far post.
RIT started the second period with a spark and nearly scored but Courtney Kukowski (Apple Valley, Minn.) made a goal line block to keep the Tigers off the board.
The Friars registered 12 shots on goal in the second period and tallied a second goal as time expired on an RIT slashing penalty. Brittney Thunstrom (Coon Rapids, Minn.) tipped in Kukowski's pass from the corner, who received the puck from Danielle Hardy (Nanaimo, British Columbia) along the half wall.
The Friars opened the third period scoring 1:19 into the period when Cassidy MacPherson (Oakville, Ontario) registered her first collegiate goal. After MacPherson won the face off back to Christina Putigna (Grimsby, Ontario), Putigna skated across the crease and threaded a pass back door to MacPherson, who banged the puck home.
Blair Parent (Anoka, Minn.) scored the Friars' fourth goal. Parent pressured the net and crashed into the net, forcing the puck loose and into the back of the net at the 4:54 minute mark.
RIT got on the board with just under five minutes to go in the third period after scoring off an odd man rush.
The Friars finalized the game with a power play goal from Kate Friesen (Altona, Manitoba). Emily Landry (Orangevile, Ontario) moved up the puck to the half wall to Brooke Boquist (Thunder Bay, Ontario) who fed Friesen for a one timer from the point.
Providence outshot the Tigers 48 to 13.
The Friars are back in action on January 9 at 1:00 p.m. at Schneider Arena to close the non-conference series with RIT.