Providence College Topped By Syracuse, 4-0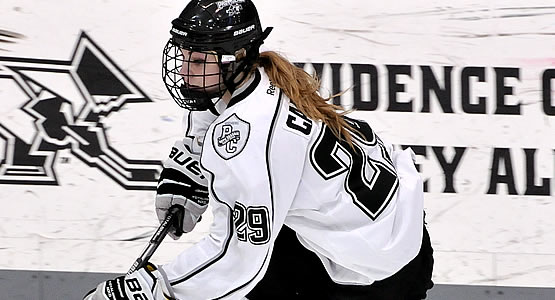 Providence College junior forward Cassidy Carels (pictured)
| | | | | | | |
| --- | --- | --- | --- | --- | --- | --- |
| Prd | Time | Team | Score | Type | Scored By | Assists |
| 1st | 6:37 | SYR | 1-0 | EV GW | Jessica Sibley (1) | Megan Quinn/2, Heather Schwarz/1 |
| 2nd | 2:35 | SYR | 2-0 | EV | Morgan Blank (1) | Nicole Renault/3, Karleigh Scully/1 |
| 2nd | 10:49 | SYR | 3-0 | EV | Nicole Ferrara (4) | Stephanie Grossi/6, Melissa Piacentini/3 |
| 3rd | 15:38 | SYR | 4-0 | PP | Emily Costales (2) | Megan Quinn/3, Larissa Martyniuk/2 |
| | | | | |
| --- | --- | --- | --- | --- |
| Scoring | 1st | 2nd | 3rd | Final |
| Syracuse | 1 | 2 | 1 | 4 |
| Providence | 0 | 0 | 0 | 0 |
| | | | | |
| --- | --- | --- | --- | --- |
| Shots on Goal | 1st | 2nd | 3rd | SOG |
| Syracuse | 14 | 16 | 8 | 38 |
| Providence | 6 | 2 | 2 | 10 |
| | | | |
| --- | --- | --- | --- |
| Team Stats and Records | PP | PIM | SHGF |
| Syracuse (2-3-0) | 1/5 | 3/6 | 0 |
| Providence (0-4-0) | 0/3 | 5/10 | 0 |
| | | | | | | |
| --- | --- | --- | --- | --- | --- | --- |
| Syracuse Goaltending | MIN | GA | 1 | 2 | 3 | Saves |
| Jenn Gilligan (W, 2-2-0) | 59:44 | 0 | 6 | 2 | 2 | 10 |
| Empty Net | 0:16 | 0 | | | | |
| | | | | | | |
| --- | --- | --- | --- | --- | --- | --- |
| Providence Goaltending | MIN | GA | 1 | 2 | 3 | Saves |
| Madison Myers (L, 0-1-0) | 60:00 | 4 | 13 | 14 | 7 | 34 |
PROVIDENCE, R.I. - The Providence College women's ice hockey team was shut out by non-conference opponent, Syracuse, 4-0. The Friars drop to 0-4-0 overall, while the Orange improve to 2-3-0 overall.
Freshman Madison Myers (Colchester, Vt.) earned her first start in net for the Friars, and made 34 saves.
Syracuse struck first, just over six and half minutes into the game. Jessica Sibley banged a rebound past Myers and gave the Orange a 1-0 lead.
The Orange added two more goals in the second period from Morgan Blank (2:35) and Nicole Ferrara (10:49).
With less than five minutes remaining in the third period, the Friars let up a power-play goal. A Syracuse point shot found Emily Costales in the slot and the puck bounced in after hitting her shin pad.
The Friars are back in action at 1:00 p.m. on Sunday, Oct. 24 at Schneider Arena.