Saturday, October 3, 2015
Providence College Defeated By Wisconsin, 8-1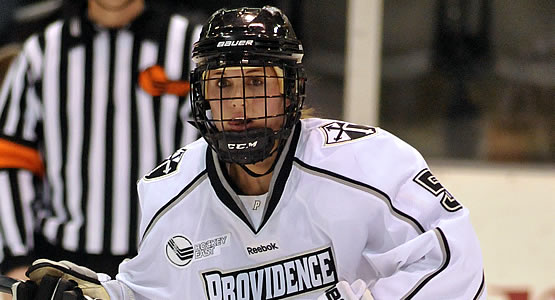 Senior forward Courtney Kukowski had an assist for the Friars
| | | | | | | |
| --- | --- | --- | --- | --- | --- | --- |
| Prd | Time | Team | Score | Type | Scored By | Assists |
| 1st | 3:54 | WIS | 1-0 | PP | Annie Pankowski (2) | Sydney McKibbon/2, Mellissa Channell/3 |
| 1st | 7:54 | WIS | 2-0 | EV GW | Sarah Nurse (2) | Sydney McKibbon/3 |
| 1st | 17:59 | WIS | 3-0 | SH | Annie Pankowski (3) | - |
| 1st | 18:45 | PRV | 1-3 | PP | Madison Sansone (1) | Courtney Kukowski/1 |
| 2nd | 1:41 | WIS | 4-1 | EV | Sam Cogan (1) | Sarah Nurse/1, Maddie Rolfes/2 |
| 2nd | 18:54 | WIS | 5-1 | EV | Emily Clark (1) | Annie Pankowski/1, Courtney Burke/2 |
| 3rd | 8:18 | WIS | 6-1 | EV | Sarah Nurse (3) | Sydney McKibbon/4, Maddie Rolfes/3 |
| 3rd | 12:06 | WIS | 7-1 | PP | Sophia Shaver (1) | Jenny Ryan/2, Kim Drake/2 |
| 3rd | 14:13 | WIS | 8-1 | SH | Annie Pankowski (4) | - |
| | | | | |
| --- | --- | --- | --- | --- |
| Scoring | 1st | 2nd | 3rd | Final |
| Providence | 1 | 0 | 0 | 1 |
| Wisconsin | 3 | 2 | 3 | 8 |
| | | | | |
| --- | --- | --- | --- | --- |
| Shots on Goal | 1st | 2nd | 3rd | SOG |
| Providence | 8 | 0 | 3 | 11 |
| Wisconsin | 12 | 18 | 17 | 47 |
| | | | |
| --- | --- | --- | --- |
| Team Stats and Records | PP | PIM | SHGF |
| Providence (0-2-0) | 1/4 | 6/12 | 0 |
| Wisconsin (2-0-0) | 2/5 | 5/10 | 2 |
| | | | | | | |
| --- | --- | --- | --- | --- | --- | --- |
| Providence Goaltending | MIN | GA | 1 | 2 | 3 | Saves |
| Sarah Bryant (L, 0-2-0) | 50:28 | 6 | 9 | 16 | 8 | 33 |
| Alanna Serviss | 9:32 | 2 | 0 | 0 | 6 | 6 |
| | | | | | | |
| --- | --- | --- | --- | --- | --- | --- |
| Wisconsin Goaltending | MIN | GA | 1 | 2 | 3 | Saves |
| Ann-Renée Desbiens (W, 2-0-0) | 39:50 | 1 | 7 | 0 | 0 | 7 |
| Jorie Walters | 19:36 | 0 | 0 | 0 | 3 | 3 |
| Empty Net | 0:34 | 0 | | | | |
SAN JOSE, Calif. - The Providence College women's ice hockey team fell to No. 3 Wisconsin, 8-1, in the final game of the two game series. Providence drops to 0-2-0 while Wisconsin improves to 2-0-0.
The Badgers jumped out to an early lead, scoring three-consecutive goals in the first period. Annie Pankowski notched a power-play goal just under three minutes into the game. Sarah Nurse collected her second goal of the season at the 7:54 minute mark and Pankowski followed with a short-handed tally (17:59).
Providence responded with its lone goal from Madison Sansone (Lockport, N.Y.) on a Friar power-play. Courtney Kukowski's (Apple Valley, Minn.) shot was stopped by Wisconsin's goaltender, Ann-Renee Desbiens, but Sansone collected the rebound and put the puck in the net.
Wisconsin added two more goals in the second period, from Sam Cogan (1:41) and Emily Clark (18:54).
Senior goaltender Sarah Bryant (Bethlehem, Pa.) played 50:28 minutes and collected 33 saves and junior Alanna Serviss (Chicago, Ill.) posted six saves in just over nine minutes of relief.
Sophia Shaver tallied a power-play goal with 12:06 remaining in the game and Pankwoski completed her hat trick on Wisconsin's eighth goal at 14:13, marking the Badgers' third power-play goal of the game.
The Friars finished the game with 11 shots and the Badgers recorded 47 attempts.
Providence and Wisconsin will come together to host a free clinic at the Sharks Ice in San Jose, Calif. at 10:00 a.m. - 11:30 a.m. on Sunday, Oct. 4.