Late Willard Goal Lifts Vermont Past New Hampshire, 2-1
Sophomore defenseman Taylor Willard has goal and an assist for Catamounts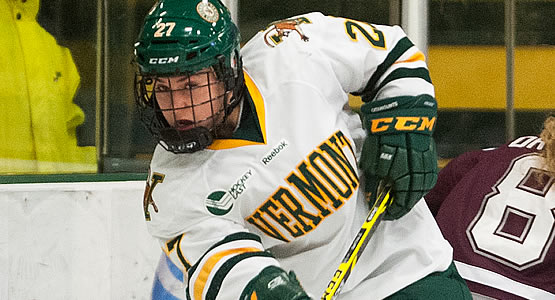 Sophomore defenseman Taylor Willard scored the game-winning goal for the Catamounts
| | | | | | | |
| --- | --- | --- | --- | --- | --- | --- |
| Prd | Time | Team | Score | Type | Scored By | Assists |
| 1st | 2:41 | UNH | 1-0 | EV | Sara Carlson (4) | Margo Lund/6, Julia Fedeski/7 |
| 1st | 3:33 | VER | 1-1 | EV | Saana Valkama (4) | Sarah Kelly/3, Taylor Willard/8 |
| 3rd | 18:48 | VER | 2-1 | EV GW | Taylor Willard (8) | Dayna Colang/14, Rachael Ade/2 |
| | | | | |
| --- | --- | --- | --- | --- |
| Scoring | 1st | 2nd | 3rd | Final |
| Vermont | 1 | 0 | 1 | 2 |
| New Hampshire | 1 | 0 | 0 | 1 |
| | | | | |
| --- | --- | --- | --- | --- |
| Shots on Goal | 1st | 2nd | 3rd | SOG |
| Vermont | 6 | 6 | 9 | 21 |
| New Hampshire | 14 | 7 | 10 | 31 |
| | | | |
| --- | --- | --- | --- |
| Team Stats and Records | PP | PIM | SHGF |
| Vermont (7-21-2) | 0/1 | 1/2 | 0 |
| New Hampshire (10-18-1) | 0/1 | 1/2 | 0 |
| | | | | | | |
| --- | --- | --- | --- | --- | --- | --- |
| Vermont Goaltending | MIN | GA | 1 | 2 | 3 | Saves |
| Madison Litchfield (W, 4-12-2) | 60:00 | 1 | 13 | 7 | 10 | 30 |
| | | | | | | |
| --- | --- | --- | --- | --- | --- | --- |
| New Hampshire Goaltending | MIN | GA | 1 | 2 | 3 | Saves |
| Kyra Smith (L, 9-10-1) | 58:55 | 2 | 5 | 6 | 8 | 19 |
| Empty Net | 1:05 | 0 | | | | |
DURHAM, N.H. - Sophomore defenseman Taylor Willard scored the game-winning goal with 1:12 left in the third period to send Vermont to a 2-1 win against New Hampshire on Friday night at the Whittemore Center.
GAME INFORMATION
Date: Feb. 5, 2016 (7:40 p.m.)
Location: Whittemore Center (Durham, N.H.)
Attendance: 275
Score: Vermont 2, New Hampshire 1
Updated Records: UVM (7-21-2, 5-13-2 WHEA), UNH (10-18-1, 7-12-0 WHEA)
Goal Scorers:
UVM- Saana Valkama, Taylor Willard
UNH- Sara Carlson
Goaltenders:
UVM- Madison Litchfield 13-7-10-30 (60:00) (win)
UNH- Kyra Smith 5-6-8-19 (58:55) (loss)
Next Game (home): Saturday, Feb. 6 (4 p.m.) vs. Vermont
Tickets available online at www.unhwildcats.com or by calling 603-862-4000
WHAT HAPPENED
- Taylor Willard ripped a slap shot from the high slot into the upper-right corner of the net with 72 seconds left in regulation to break the 1-1 tie and lift the Catamounts to victor
- UNH took a 1-0 lead at 2:41 of the first period when Sara Carlson (Hutchinson, Minn.) circled from the left half-boards behind the net to the top of the slot and blasted a rising shot into the net.
- Vermont tied the score just 42 seconds later on a goal by Saana Valkama. Willard initiated the scoring sequence with a pass out of the defensive zone to Sarah Kelly, who advanced along the left wing before saucering a pass to Valkama in the slot.
- UNH pulled Kyra Smith (Littleton, Colo.) with 65 seconds to play but was unable to sustain possession in the offensive zone. The Wildcats were limited to one shot the rest of the way, and Litchfield made that save against Cassandra Vilgrain (Calgary, Albert) to preserve the win.
NOTABLE
- Carlson extended her point streak to four games (2-2-4)
- Kate Haslett (Rothesay, New Brunswick) fired a shot from the slot that beat Litchfield but clanged off the right post. After an official review, the score remained tied 1-1 at 6:30 of the second period.
PENALTIES
Vermont: 1-2
New Hampshire: 1-2
POWER PLAYS
Vermont: 0-1
New Hampshire: 0-1
VERMONT LEADERS
Points: Taylor Willard (2)
Goals: Saana Valkama (1), Taylor Willard (1)
Assists: Rachel Ade (1), Dayna Colang (1), Sarah Kelly (1), Taylor Willard (1)
Shots: Saana Valkama (3)
NEW HAMPSHIRE LEADERS
Points: Sara Carlson (1), Julia Fedeski (1), Margo Lund (1)
Goals: Sara Carlson (1)
Assists: Julia Fedeski (1), Margo Lund (1)
Shots: Marie-Jo Pelletier (6)