Boston College Heads Back To Frozen Four After 6-0 Win Over St. Lawrence
Junior forward Kenzie Kent has goal and two assists for Eagles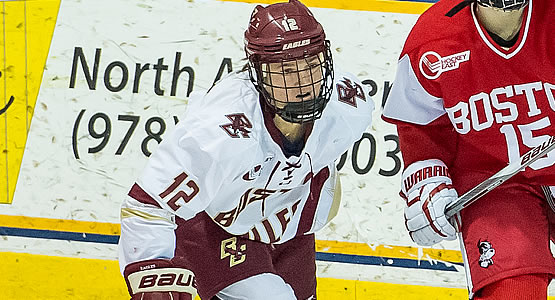 Junior forward Kenzie Kent had a goal and two assists for the Eagles
| | | | | | | |
| --- | --- | --- | --- | --- | --- | --- |
| Prd | Time | Team | Score | Type | Scored By | Assists |
| 1st | 18:36 | BC | 1-0 | PP GW | Kenzie Kent (9) | Makenna Newkirk/24, Kali Flanagan/13 |
| 2nd | 1:51 | BC | 2-0 | EV | Kristyn Capizzano (14) | Caitrin Lonergan/18, Delaney Belinskas/17 |
| 2nd | 5:56 | BC | 3-0 | SH | Andie Anastos (16) | Kenzie Kent/16, Kali Flanagan/14 |
| 2nd | 14:54 | BC | 4-0 | SH | Haley McLean (4) | Ryan Little/4 |
| 2nd | 19:58.2 | BC | 5-0 | EV | Megan Keller (10) | Haley McLean/9 |
| 3rd | 9:49 | BC | 6-0 | EV | Makenna Newkirk (15) | Kenzie Kent/17, Andie Anastos/26 |
| | | | | |
| --- | --- | --- | --- | --- |
| Scoring | 1st | 2nd | 3rd | Final |
| St. Lawrence | 0 | 0 | 0 | 0 |
| Boston College | 1 | 4 | 1 | 6 |
| | | | | |
| --- | --- | --- | --- | --- |
| Shots on Goal | 1st | 2nd | 3rd | SOG |
| St. Lawrence | 11 | 5 | 8 | 24 |
| Boston College | 7 | 11 | 10 | 28 |
| | | | |
| --- | --- | --- | --- |
| Team Stats and Records | PP | PIM | SHGF |
| St. Lawrence (26-6-4) | 0/3 | 5/10 | 0 |
| Boston College (28-5-5) | 1/5 | 3/6 | 2 |
| | | | | | | |
| --- | --- | --- | --- | --- | --- | --- |
| St. Lawrence Goaltending | MIN | GA | 1 | 2 | 3 | Saves |
| Grace Harrison (L, 23-6-4) | 34:54 | 4 | 6 | 5 | 0 | 11 |
| Sonjia Shelly | 25:06 | 2 | 0 | 2 | 9 | 11 |
| | | | | | | |
| --- | --- | --- | --- | --- | --- | --- |
| Boston College Goaltending | MIN | GA | 1 | 2 | 3 | Saves |
| Katie Burt (W, 26-5-5) | 60:00 | 0 | 11 | 5 | 8 | 24 |
CHESTNUT HILL, Mass. - The No. 4 Boston College women's hockey team used a four-goal second period en route to a 6-0 win over sixth-ranked St. Lawrence on Saturday afternoon at Kelley Rink to punch its ticket to the 2017 NCAA Frozen Four next weekend.
BC (28-5-5) held a 1-0 lead after the first period courtesy of Kenzie Kent's power-play goal, but BC netted four goals - including a pair of shorthanded strikes - in the second period and added a final goal in the third to claim their berth in their third-straight Frozen Four.
This will be Boston College's seventh appearance in the Frozen Four in program history. This year's event will be held at The Family Arena in St. Charles, Mo.
Kent was one of five multiple-point getters for the Eagles, scoring three points from one goal and two assists. Andie Anastos had a goal (shorthanded) and an assist, while Haley McLean (shorthanded goal) and Makenna Newkirk also scored goals and added single assists. Kali Flanagan collected a pair of assists.
BC out-shot St. Lawrence (26-6-4) 28-24 in the game despite the Saints holding an 11-7 edge after the first period. BC followed with an 11-5 advantage in the second period, which included four goals.
BC goaltender Katie Burt made 24 saves to post her eighth shutout of the season and her first in NCAA Tournament play. St. Lawrence starter Grace Harrison made 11 saves before giving way to Sonjia Shelly after McLean's goal in the second period. Shelly also made 11 saves.
Follow the #BCEagles all season at @bc_whockey on Twitter and Instagram.
2017 NCAA Tournament | Quarterfinals
No. 4 Boston College 6, No. 6 St. Lawrence 0
Saturday, March 11, 2017
Kelley Rink at Conte Forum | Chestnut Hill, Mass.
1st, 18:36 | 1-0, BC GOAL (PPG) - Toward the end of the Eagles' first power-play of the afternoon, BC reset off a defensive faceoff. Kali Flanagan re-stared the rush from behind Katie Burt and took open ice in the BC defensive zone and into neutral ice. She played Makenna Newkirk ahead near the SLU blue line, and Newkirk skated wide into the zone. Near the outside edge of the faceoff circle, she threaded a pass behind two Saints defenders as Kenzie Kent streamed into the slot. Kent's collected the pass and her one-timer high beat SLU goaltender Grace Harrison to give the Eagles the lead.
2nd, 1:51 | 2-0, BC GOAL - Delaney Belinskas created a turnover high the SLU zone and skated deeper. She threw a pass back into the slot for Kristyn Capizzano, who saw her shot from between the hash marks saved by Harrison. Caitrin Lonergan flew in front of the goal and knocked the puck loose from under Harrison, where Capizzano pounced and poked it into the open net while Harrison searched for the puck to the side of the play.
2nd, 5:56 | 3-0, BC GOAL (SHG) - Newkirk skated the puck deep into SLU's zone on a penalty kill as the Eagles changed PK killers. While the Saints tried to clear the puck and re-start their attack, Flanagan snuffed out the leading pass just outside the Eagles' blue line, and connected ahead with Kent and Andie Anastos joined into the play to create a 2-on-1 shorthanded bid. At the top of the slot, Kent pushed the puck wide right to Anastos, and after a deke, Anastos pushed the puck under Harrison for a 3-0 lead.
2nd, 13:54 | 4-0, BC GOAL (SHG) - The BC defense threw a clearing pass down into the SLU end and as the Saints started to skate it out to start their attack on the man-advantage, Ryan Little broke up the second pass just inside the SLU blue line. She turned and with Haley McLean still in the zone, pushed the puck centrally to the senior. McLean turned around and threw a looping shot on goal from the high slot that surprised Harrison and gave the Eagles a four-goal cushion.
2nd, 19:58 | 5-0, BC GOAL - The Eagles' third line kept SLU pinned back with a heavy forecheck and after a McLean shot, the Saints tried to clear the puck. Keller, however stopped it at the blue line, skated inside and the fed McLean low and to her left. McLean skated around the back of the net and stuffed a hard-angle shot along the post on replacement goaltender Sonjia Shelly, but the rebound popped out as Keller charged in, allowing the blueliner to stuff it in two seconds before the end of the second period.
3rd, 9:49 | 6-0, BC GOAL - Anastos flipped the puck off the boards and out of the BC defensive zone and Kent got on the end of it in the neutral zone. She took space and rushed into the SLU zone after banking the puck off the boards to create more space. She skated in with Newkirk, and as Kent approached the left face-off circle, she pushed a pass wide to Newkirk open in front. Newkirk deked in the slot and flipped a backhand past Shelly for the six-goal lead midway through the final stanza.
TEAM NOTES
- Today's win advanced Boston College to its seventh Frozen Four in program history, and their third straight (2015-present) ... BC has now appeared in six of the last seven Frozen Fours
- BC is now 8-8 all-time in the NCAA Tournament after today's win
- The Eagles improved to 7-2 all-time in the NCAA Quarterfinals, including a 6-0 mark when hosting the game
- BC is now 4-3 as the No. 4 seed in the NCAA Tournament, including a 4-0 mark in the quarterfinal round
- This was the first shutout Boston College has posted in the NCAA Tournament in 16 games ... previously, BC had allowed a low of one goal four times
- This was just the 13th shutout in NCAA Tournament history, and the first since Clarkson goaltender Shea Tiley's 1-0 win at Quinnipiac on March 12, 2016
- The Eagles improved to 4-0-1 against ECAC teams this season, including a 2-0-1 mark against ranked ECAC teams
- With the win, BC is now 3-0-2 against ranked teams this season
- BC closed its home slate with a 13-1-3 record this year
- BC pushed its 2017 postseason record to 5-0, including the Hockey East Tournament championship last weekend
- The Eagles have allowed just four goals in five playoff games, a total which also includes two overtime games
- With Kenzie Kent's first-period goal, the Eagles extended their scoring streak in NCAA Tournament play ... BC has notched at least one goal in every NCAA game in program history, a stretch of 16 games dating back to 2007
- Kent's first-period power-play goal was the team's 40th of the season, a figure that leads nation ... BC has now scored a power-play goal in each of the last three games after a three-game stretch without a goal on the man-advantage
- Today's game marked the second time this season BC scored two shorthanded goals in a game ... the last time BC tallied twice while down a man was Jan. 25 against Merrimack when Kristyn Capizzano and Andie Anastos tallied in the 4-0 win
- BC now has a nation-leading 10 shorthanded goals this year, a figure that is tied for third-best in program history ... the program record is 13 in 2006-07
PLAYER NOTES
- Kenzie Kent led all scorers with three points today ... it was the fifth multiple-point game of her season, matching the three-point effort (three assists) she posted at New Hampshire on Nov. 11
- Kenzie Kent notched her 75th career assist on Andie Anastos' shorthanded goal ... she is now tied for 11th place in program history in career assists, one back of 10th-place Lexi Bender '16 (76)
- Katie Burt recorded her 91st career win with the 24-save effort tonight ... with today's victory, she moved into a sixth-place tie with former Wisconsin goaltender Jessie Vetter on the NCAA career wins list
- Burt's shutout was the eighth of the season and her third in the last five games ... she now has 31 on her career and sits in sole possession of fifth place on the NCAA career list, one back of fourth place, which is currently held by former Minnesota goaltender Amanda Leveille (32)
- This was Burt's fourth win in NCAA Tournament play in her career ... she has at least one win in each of her three seasons at The Heights
- With one goal and one assist, this was Haley McLean's third multiple-point game of the season ... all have come in the last eight games
- McLean's shorthanded goal in the second period was the first shorty of her career
- With four goals this season, McLean has matched her single-season best of four, which she posted as both a freshman and a sophomore
- With nine assists so far this year, McLean is now one shy of her single-season best of 10, which she registered as a freshman
- Andie Anastos scored her career-best 16th goal of the season in the second period ... that moved her career total to 58 goals and pushed her into sole possession of eighth place on the Eagles' career goals chart, moving past Dana Trivigno '16 (57)
- Anastos' shorthanded goal was the sixth shorty of her career, and moved her into a tie for fifth place with Erin Magee '99 on the BC career shorthanded goals chart
- Anastos' assist on Makenna Newkirk's goal was her 86th career assist and she is now tied for fifth on the Eagles' career assist chart, matching Emily Field '14
- Makenna Newkirk tallied her 11th multiple-point game of the season and her first since Feb. 3 ... with a goal and an assist, Newkirk pushed her season point total to 39 points (15 goals and 24 assists) ... she now has 88 career points
- Kali Flanagan recorded her fourth multiple-point game of the season with her two-assist effort ... she now has 19 points on the year
- Megan Keller became the sixth Eagle to record double-digit goals with her late second-period tally ... it was her 10th goal of the season
- Keller now has 115 career points, from 26 goals and 89 assists, and ranks 12th on the Eagles' career scoring chart as a junior defenseman
- Kristyn Capizzano's second-period goal was her 14th goal this season and the 45th of her career
- Ryan Little recorded her career-best fourth assist of the season with the set-up of McLean's shorthanded strike
- Freshmen linemates Caitrin Lonergan and Delaney Belinskas picked up assists on Capizzano's second-period goal ... both players pushed their season point totals to 33, which is tied for second-best among freshmen nationally
- Belinskas has scored 16 goals and added 17 assists, while Lonergan has scored 15 goals and added 18 assists
TEAM RECORDS
St. Lawrence 26-6-4
Boston College: 28-5-5
UP NEXT
Boston College will play in the national semifinal next Friday, March 17, and will meet No. 1 Wisconsin, which defeated Robert Morris, 7-0, in the NCAA Quarterfinal. The game will be played at The Family Arena in St. Charles, Mo.