Saturday, December 3, 2016
Maine Takes Down Mount Allison, 6-3, in Exhibition
Freshman forward Tereza Vanišová has four goals and assist for Black Bears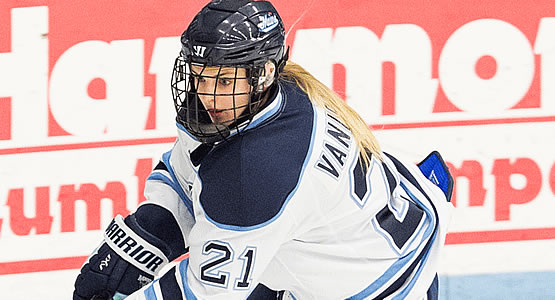 Freshman forward Tereza Vanišová had four goals and an assist for the Black Bears
| | | | | | | |
| --- | --- | --- | --- | --- | --- | --- |
| Prd | Time | Team | Score | Type | Scored By | Assists |
| 1st | 0:24 | MNE | 1-0 | EV | Tereza Vanišová | Brooke Stacey, Brittany Colton |
| 1st | 19:39 | MNE | 2-0 | EV | Victoria Hummel | Morgan Sakundiak |
| 2nd | 0:30 | MNE | 3-0 | EV | Tereza Vanišová | - |
| 2nd | 3:40 | MNE | 4-0 | EV GW | Brooke Stacey | Tereza Vanišová, Vendula Přibylová |
| 2nd | 6:08 | MNE | 5-0 | EV | Tereza Vanišová | - |
| 2nd | 14:13 | MTA | 1-5 | EV | Maddy Koughan | Rhiannon Ford |
| 3rd | 0:31 | MTA | 2-5 | PP | Kara Anthony | Heather Richards |
| 3rd | 8:48 | MTA | 3-5 | PP | Heather Richards | Mackenzie Lalonde, Morgan Porter |
| 3rd | 12:11 | MNE | 6-3 | EV | Tereza Vanišová | Vendula Přibylová |
| | | | | |
| --- | --- | --- | --- | --- |
| Scoring | 1st | 2nd | 3rd | Final |
| Mount Allison | 0 | 1 | 2 | 3 |
| Maine | 2 | 3 | 1 | 6 |
| | | | | |
| --- | --- | --- | --- | --- |
| Shots on Goal | 1st | 2nd | 3rd | SOG |
| Mount Allison | 4 | 9 | 12 | 25 |
| Maine | 20 | 12 | 12 | 44 |
| | | | |
| --- | --- | --- | --- |
| Team Stats and Records | PP | PIM | SHGF |
| Mount Allison | 2/6 | 2/4 | 0 |
| Maine | 0/2 | 6/12 | 0 |
| | | | | | | |
| --- | --- | --- | --- | --- | --- | --- |
| Mount Allison Goaltending | MIN | GA | 1 | 2 | 3 | Saves |
| Keri Martin (L) | 29:51 | 5 | 18 | 6 | 0 | 24 |
| Lindsay Wray | 30:09 | 1 | 0 | 3 | 11 | 14 |
| | | | | | | |
| --- | --- | --- | --- | --- | --- | --- |
| Maine Goaltending | MIN | GA | 1 | 2 | 3 | Saves |
| Jillian Flynn (W) | 60:00 | 3 | 4 | 8 | 10 | 22 |
PRESQUE ISLE, Maine - The Black Bears traveled to Presque Isle, Maine to face off against the Mount Allison Mounties in an exhibition matchup which saw plenty of action as 9 total goals were scored, with Maine coming out on top 6-3, with Jillian Flynn getting her first action of the season in front of her home-town crowd.
The scoring started off quick as Maine struck first and never looked back; Tereza Vansiova started off the afternoon by scoring 24 seconds into the game, assisted by Brooke Stacey and Brittany Colton to give Maine a quick 1-0 lead. Maine would score again later in the first, as Victoria Hummel scored 19:39 into the first, assisted by Morgan Sakundiak. The first period would end with Maine in the lead 2-0.
The second period started much like the first with Vanisova scoring another goal in the first minute of the period, putting Maine up 3-0. Maine would score again 3:40 into the period as Brooke Stacey took the feed from Vanisova and Vendula Pribylova giving Maine a 4 goal lead. Another goal from Maine in the period, 6:08 into the period, came from Vanisova as she scored the hat-trick unassisted, and Maine increased their lead 5-0.
Mount Allison would finally answer back 14:13 into the period as Maddy Koughan was able to put one past Maine Goaltender past Flynn, and the period would end with Mount Allison on the board, 5-1 the Maine lead.
The Mounties tried to mount a comeback in the third, as they scored two more goals on power plays; the first goal came 31 seconds into the final period from Kara Anthony as it snuck through the pads of Flynn, and 8:48 into the period on another power play Heather Richards cut it to a 2-goal lead, 5-3 in Maine's favor.
At 12:11 into the period Vanisova scored her fourth goal of the game, assisted by Pribylova, giving Maine the extra insurance and the final score of 6-3.
Mount Allison saw action from 2 goaltenders, Keri Martin got the start for the Mounties, she stopped 24 of 29 shots faced, and Lindsay Wray came into the game in releif, she stopped 14 of 15 shots she faced. Jillian Flynn for Maine stopped 22 of 25 shots, getting her first action in net and coming out with the exhibition win.
Maine is back in action before Winter Break as they face Union on Friday and Saturday afternoons at 2pm.