Providence Sweeps Weekend Series With 5-2 Win At Maine
Sophomore defenseman Kate Friesen posts two goals and assist for Friars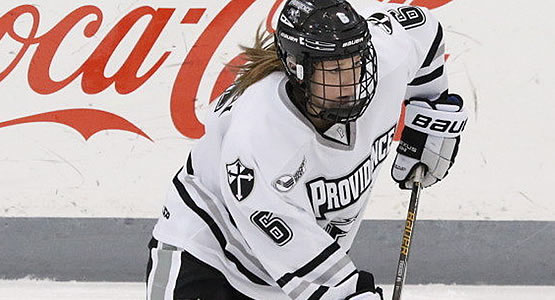 Sophomore defenseman Kate Friesen had two goals and an assist for the Friars
| | | | | | | |
| --- | --- | --- | --- | --- | --- | --- |
| Prd | Time | Team | Score | Type | Scored By | Assists |
| 1st | 1:41 | PRV | 1-0 | PP | Kate Friesen (6) | Rachel Rockwell/11, Blair Parent/9 |
| 1st | 7:58 | PRV | 2-0 | PP | Rachel Rockwell (4) | Kate Friesen/10, Blair Parent/10 |
| 1st | 9:49 | MNE | 1-2 | EV | Jessica Jacques (1) | Alyson Matteau/13, Nicole Arnold/3 |
| 1st | 15:32 | MNE | 2-2 | PP | Tereza Vanišová (16) | Vendula Přibylová/11, Catherine Tufts/4 |
| 2nd | 1:19 | PRV | 3-2 | EV GW | Kate Friesen (7) | Meaghan Rickard/10 |
| 2nd | 10:39 | PRV | 4-2 | EV | Brooke Boquist (15) | - |
| 3rd | 19:09 | PRV | 5-2 | EV EN | Madison Sansone (7) | Avery Fransoo/13 |
| | | | | |
| --- | --- | --- | --- | --- |
| Scoring | 1st | 2nd | 3rd | Final |
| Providence | 2 | 2 | 1 | 5 |
| Maine | 2 | 0 | 0 | 2 |
| | | | | |
| --- | --- | --- | --- | --- |
| Shots on Goal | 1st | 2nd | 3rd | SOG |
| Providence | 12 | 13 | 6 | 31 |
| Maine | 10 | 11 | 10 | 31 |
| | | | |
| --- | --- | --- | --- |
| Team Stats and Records | PP | PIM | SHGF |
| Providence (14-12-2) | 2/5 | 6/12 | 0 |
| Maine (8-18-1) | 1/6 | 6/12 | 0 |
| | | | | | | |
| --- | --- | --- | --- | --- | --- | --- |
| Providence Goaltending | MIN | GA | 1 | 2 | 3 | Saves |
| Madison Myers (W, 8-8-2) | 60:00 | 2 | 8 | 11 | 10 | 29 |
| | | | | | | |
| --- | --- | --- | --- | --- | --- | --- |
| Maine Goaltending | MIN | GA | 1 | 2 | 3 | Saves |
| Mariah Fujimagari (L, 2-2-0) | 59:31 | 4 | 10 | 11 | 5 | 26 |
| Empty Net | 0:29 | 1 | | | | |
The Providence College women's ice hockey team defeated the Maine Black Bears on Jan. 22 to complete the weekend sweep in Orono. The Friars improve to 14-12-2 and 9-7-2 in Hockey East while Maine moves to 8-18-1 and 4-14-1 in Hockey East.
In the first period, Providence tallied the first two goals of the game. One minute and 41 seconds into the game, Kate Friesen (Altona, Manitoba) struck from the point on the power play. Blair Parent (Blaine, Minn.) moved the puck up to Rachel Rockwell (Broadview Heights, Ohio) on the point. Rockwell passed to Friesen along the blue line and Friesen took a slap shot that redirected in front and into the net for a 1-0 lead.
The combination of Friesen, Rockwell, and Parent struck again to give the Friars at 2-0 lead at 7:58 of the first, this time on a five-on-three opportunity. Parent moved the puck up to Friesen from below the faceoff circle and then Friesen moved it over to Rockwell on the point, who let a slap shot go from the point.
Maine scored two goals to even the score, 2-2, with goals from Jessica Jacques at 9:39 and Tereza Vanisova at 15:32.
Early in the second period the Friars took back the lead when Friesen tallied her second goal of the game, again with a slap shot from the point. Meaghan Rickard (Coventry, R.I.) forced a turnover in the offensive zone and fed Friesen for a 3-2 lead.
Brooke Boquist (Thunder Bay, Ontario) tallied her fifteenth goal of the season when she picked up a loose puck in the neutral zone and skate into Black Bear territory untested and ripped a shot past Maine's Mariah Fujimagari for a 4-2 Friar lead.
The Friars tallied the fifth and final goal of the game when Madison Sansone (Lockport, N.Y.) scored an empty netter with under a minute remaining in the game to send Providence to a 5-2 victory.
The win serves as the Friars' first Hockey East series sweep of the 2016-17 season, defeating Maine in three games.
The win also marks Head Coach Bob Deraney's 300th career win at Providence College.
The Friars are back in action on Feb. 3 at 2:00 p.m. to close the Hockey East series with Northeastern in Boston, Mass.