Saturday, January 7, 2017
Kelly Scores Twice To Lead Vermont Past Maine, 4-1
Senior forward Sarah Kelly nets two goals for Catamounts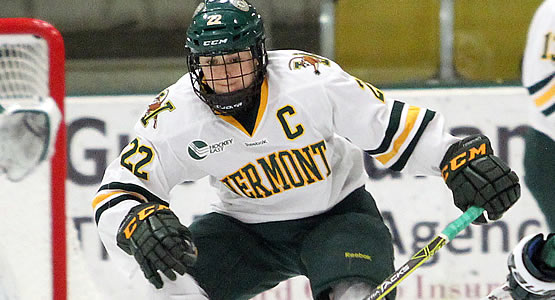 Senior forward Sarah Kelly scored two goals for the Catamounts
| | | | | | | |
| --- | --- | --- | --- | --- | --- | --- |
| Prd | Time | Team | Score | Type | Scored By | Assists |
| 1st | 3:47 | MNE | 1-0 | EV | Tereza Vanišová (13) | Vendula Přibylová/10, Brittany Colton/2 |
| 2nd | 2:01 | VER | 1-1 | EV | Sarah Kelly (2) | Katherine Pate/1 |
| 2nd | 4:47 | VER | 2-1 | PP GW | Bridget Baker (8) | Ali O'Leary/4, Daria O'Neill/8 |
| 3rd | 9:35 | VER | 3-1 | EV | Sarah Kelly (3) | Katherine Pate/2 |
| 3rd | 18:55 | VER | 4-1 | EV EN | Alyssa Gorecki (6) | Saana Valkama/9 |
| | | | | |
| --- | --- | --- | --- | --- |
| Scoring | 1st | 2nd | 3rd | Final |
| Maine | 1 | 0 | 0 | 1 |
| Vermont | 0 | 2 | 2 | 4 |
| | | | | |
| --- | --- | --- | --- | --- |
| Shots on Goal | 1st | 2nd | 3rd | SOG |
| Maine | 6 | 5 | 11 | 22 |
| Vermont | 11 | 19 | 9 | 39 |
| | | | |
| --- | --- | --- | --- |
| Team Stats and Records | PP | PIM | SHGF |
| Maine (6-13-1) | 0/4 | 7/14 | 0 |
| Vermont (9-7-5) | 1/7 | 4/8 | 0 |
| | | | | | | |
| --- | --- | --- | --- | --- | --- | --- |
| Maine Goaltending | MIN | GA | 1 | 2 | 3 | Saves |
| Carly Jackson (L, 4-12-1) | 59:43 | 3 | 11 | 17 | 7 | 35 |
| Empty Net | 0:17 | 1 | | | | |
| | | | | | | |
| --- | --- | --- | --- | --- | --- | --- |
| Vermont Goaltending | MIN | GA | 1 | 2 | 3 | Saves |
| Melissa Black (W, 4-4-2) | 60:00 | 1 | 5 | 5 | 11 | 21 |
BURLINGTON, Vt. - Senior Sarah Kelly registered her first career multi-goal game to help the Vermont women's hockey team past Maine by a 4-1 margin on Saturday afternoon in Hockey East action at Gutterson Fieldhouse.
UVM improves to 9-7-5 on the season (5-3-3 WHEA), while the Black Bears drop to 6-13-1 (2-9-1 WHEA).
Sophomore Melissa Black racked up 21 saves between the pipes for the Catamounts, while Maine's Carly Jackson turned aside 35 shots.
"We've really just tried to focus on simple things," said head coach Jim Plumer. "I thought a couple of our goals were examples of that. Sarah Kelly's first goal was just a good, simple forecheck, getting the puck and moving to the slot. In a lot of ways, Bridget Baker's power play goal was the same thing. We're trying not to over-complicate right now."
Maine struck first in the early stages of the contest as Tereza Vanišová lit the lamp for her team-high 13th goal of the season. She received a pass at her own blue line from Vendula Pribylová, then skated into the offensive zone before driving through the right circle and finding the back of the net at 3:47.
The tables turned in the middle stanza, when UVM outshot its opponent by a 19-5 margin and landed a pair of goals over a span of 2:46. Kelly began the sequence with the equalizer at 2:01, finishing a one-timer on a doorstep feed from Katherine Pate.
Not long after, the Green and Gold nabbed a 2-1 lead on Baker's eighth tally of the year. Daria O'Neill dished from the left point to Ali O'Leary, who found Baker in the slot for the goal.
Vermont doubled its lead in the middle stages of the third period when Kelly picked up her second goal of the day. Pate fed her the puck, setting up Kelly for a self-pass off the boards and allowing her to wrist the puck on goal from the right circle. The shot took an odd bounce and wound up past Jackson.
Alyssa Gorecki iced the victory with an empty netter with 1:05 on the clock.
UVM was once again perfect on the penalty kill, going 4-for-4 on the day and now holding opponents scoreless on a nationwide-best 35 consecutive power plays over its last 10 games.
Vermont and Maine will meet again on Sunday (Jan. 8) at 2 p.m., closing the weekend series at Gutterson Fieldhouse.