Saturday, November 5, 2016
New Hampshire Edges Past Providence College, 4-3
Junior Carlee Toews, senior Jonna Curtis and freshman Meghara McManus each post goal and assist for Wildcats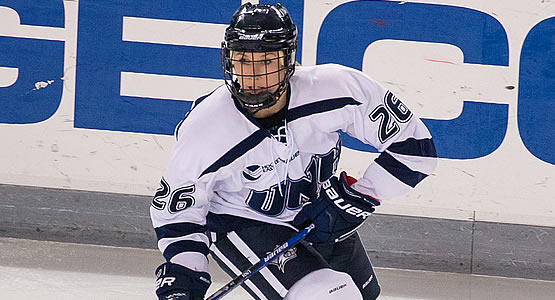 Junior forward Carlee Toews had a goal and an assist for the Wildcats
| | | | | | | |
| --- | --- | --- | --- | --- | --- | --- |
| Prd | Time | Team | Score | Type | Scored By | Assists |
| 1st | 3:39 | UNH | 1-0 | EV | Ali Praus (1) | Meghara McManus/2 |
| 1st | 4:06 | PRV | 1-1 | EV | Cassidy MacPherson (4) | Blair Parent/4, Whitney Dove/6 |
| 1st | 17:47 | UNH | 2-1 | EV | Jonna Curtis (6) | Carlee Turner/5 |
| 2nd | 3:46 | PRV | 2-2 | EV | Rachel Rockwell (2) | Neve Van Pelt/3, Kate Friesen/7 |
| 2nd | 8:02 | UNH | 3-2 | EV | Meghara McManus (3) | Carlee Toews/3 |
| 3rd | 0:23 | UNH | 4-2 | EV GW | Carlee Toews (2) | Jonna Curtis/6 |
| 3rd | 10:56 | PRV | 3-4 | EV | Christina Putigna (4) | - |
| | | | | |
| --- | --- | --- | --- | --- |
| Scoring | 1st | 2nd | 3rd | Final |
| New Hampshire | 2 | 1 | 1 | 4 |
| Providence | 1 | 1 | 1 | 3 |
| | | | | |
| --- | --- | --- | --- | --- |
| Shots on Goal | 1st | 2nd | 3rd | SOG |
| New Hampshire | 6 | 9 | 5 | 20 |
| Providence | 8 | 6 | 8 | 22 |
| | | | |
| --- | --- | --- | --- |
| Team Stats and Records | PP | PIM | SHGF |
| New Hampshire (3-7-0) | 0/3 | 5/10 | 0 |
| Providence (5-6-0) | 0/5 | 3/6 | 0 |
| | | | | | | |
| --- | --- | --- | --- | --- | --- | --- |
| New Hampshire Goaltending | MIN | GA | 1 | 2 | 3 | Saves |
| Hilary Cashin (W, 2-3-0) | 60:00 | 3 | 7 | 5 | 7 | 19 |
| | | | | | | |
| --- | --- | --- | --- | --- | --- | --- |
| Providence Goaltending | MIN | GA | 1 | 2 | 3 | Saves |
| Madison Myers (L, 2-4-0) | 58:03 | 4 | 4 | 8 | 4 | 16 |
| Empty Net | 1:57 | 0 | | | | |
PROVIDENCE, R.I. - The Providence College women's hockey team was defeated by the New Hampshire Wildcats, 4-3. The Friars move to 5-6-0 and 2-2-0 in Hockey East play and New Hampshire improves to 3-7-0 and 3-2-0 in Hockey East.
New Hampshire scored first, only 3:39 into the opening period from Ali Praus.
Providence responded 27 seconds later with a goal from Cassidy MacPherson (Oakville, Ontario) on a two-on-one with Blair Parent (Blaine, Minn.). MacPherson carried the puck into the offensive zone and moved it across the tops of the circles to Parent, who quickly moved the puck back for MacPherson to tap it in.
Jonna Curtis took back the lead for UNH at 17:47 of the first period.
The Friars tied the game at two when Rachel Rockwell (Broadview Heights, Ohio) took a slap shot from outside the blue line to beat New Hampshire's Hillary Cashin's glove. Neve Van Pelt (Mitchell, Ontario) won the faceoff to Kate Friesen (Altona, Manitoba) and then over to Rockwell.
The Wildcats took back the lead when Meghara McManus put one in with 12:58 remaining in the second period.
Twenty-three seconds into the third period Carlee Toews extended New Hampshire's lead to 4-2.
Christina Putigna (Grimsby, Ontario) forced a Wildcat turnover at the bottom of the circle and reacted with a quick shot that beat Cashin's five-hole to put the Friars back within one goal with just over nine minutes remaining in regulation.
The Friars are back in action on Nov. 6 at Matthews Arena against Northeastern at 2:00 p.m.