Saturday, February 4, 2017
Vermont Defeats New Hampshire, 3-1
Senior goaltender Madison Litchfield makes 37 saves to set all-time wins record for Catamounts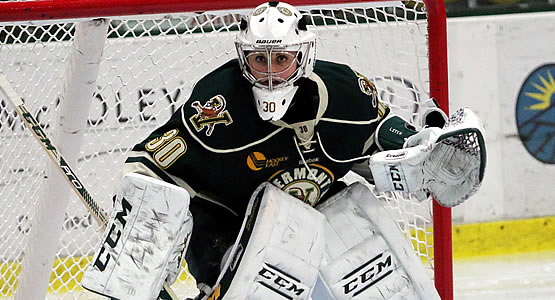 Senior goaltender Madison Litchfield made 37 saves for the Catamounts
| | | | | | | |
| --- | --- | --- | --- | --- | --- | --- |
| Prd | Time | Team | Score | Type | Scored By | Assists |
| 1st | 9:31 | VER | 1-0 | EV | Katherine Pate (1) | Daria O'Neill/10, Bella Webster/2 |
| 2nd | 7:39 | VER | 2-0 | EV GW | Rachael Ade (5) | Cassidy Campeau/6, Ève-Audrey Picard/9 |
| 2nd | 7:55 | VER | 3-0 | EV | Cassidy Campeau (4) | Saana Valkama/13, Ève-Audrey Picard/10 |
| 3rd | 14:07 | UNH | 1-3 | EV EA | Jenna Rheault (2) | Julia Fedeski/8, Jonna Curtis/15 |
| | | | | |
| --- | --- | --- | --- | --- |
| Scoring | 1st | 2nd | 3rd | Final |
| New Hampshire | 0 | 0 | 1 | 1 |
| Vermont | 1 | 2 | 0 | 3 |
| | | | | |
| --- | --- | --- | --- | --- |
| Shots on Goal | 1st | 2nd | 3rd | SOG |
| New Hampshire | 15 | 9 | 14 | 38 |
| Vermont | 4 | 6 | 2 | 12 |
| | | | |
| --- | --- | --- | --- |
| Team Stats and Records | PP | PIM | SHGF |
| New Hampshire (11-15-2) | 0/5 | 2/4 | 0 |
| Vermont (12-10-8) | 0/2 | 5/10 | 0 |
| | | | | | | |
| --- | --- | --- | --- | --- | --- | --- |
| New Hampshire Goaltending | MIN | GA | 1 | 2 | 3 | Saves |
| Kyra Smith (L, 1-9-1) | 27:55 | 3 | 3 | 1 | 0 | 4 |
| Hilary Cashin | 26:46 | 0 | 0 | 3 | 2 | 5 |
| Empty Net | 5:19 | 0 | | | | |
| | | | | | | |
| --- | --- | --- | --- | --- | --- | --- |
| Vermont Goaltending | MIN | GA | 1 | 2 | 3 | Saves |
| Madison Litchfield (W, 7-3-5) | 60:00 | 1 | 15 | 9 | 13 | 37 |
BURLINGTON, Vt. - Madison Litchfield made a season-high 37 saves to earn her 29th career win donning the Green and Gold and set an all-time program record as Vermont earned a 3-1 victory over New Hampshire on Saturday at Gutterson Fieldhouse in the regular season series finale.
With a record of 12-10-8 and 8-6-6 in conference play the Catamounts now hold sole possession of third place in Hockey East. New Hampshire falls to 11-15-2 and 9-9-2 against league foes.
"Congratulations to Madi Litchfield on setting the all-time wins record," said head coach Jim Plumer. "She was the difference today. It wasn't our sharpest game, but we scored three pretty goals and defended well enough to win. Credit to UNH for their effort today, but I'm proud of our resilience and our ability to fight through adversity."
Litchfield's day included 15 stops in the first period en route to the milestone. Kyra Smith made four stops for UNH before being relieved by Hilary Cashin, who made five saves.
It was Katherine Pate's first collegiate goal that gave the Catamounts a 1-0 lead at the 9:31 mark of the opening 20 minutes. Daria O'Neill and Bella Webster battled for the puck in the right corner, then O'Neill dished a cross-ice pass to Pate at the left point. She fired a wrister through traffic that ended up in the back of the net.
The second period saw UVM move its advantage up to 3-0 in a span of 16 seconds, using tallies by Rachael Ade and Cassidy Campeau to triple the initial lead. Ade's goal culminated a series that began with an offensive zone faceoff won by Ève-Audrey Picard. Picard later sent the puck toward goal, where it then was redirected through Campeau. Ade sent a backhand from the slot and while Smith got a piece of the shot, the puck then trickled through and moved the score to 2-0. That goal served as the game-winner and was Ade's fifth of the year.
Campeau then added some padding at the 7:55 mark, when Saana Valkama sent her a one-time feed in front, securing her fourth goal. Picard received the second assist in the sequence.
Jenna Rheault brought New Hampshire back within two at 3-1 with just under six minutes left in regulation, set up by Julia Fedeski and Jonna Curtis, with Cashin pulled for an extra skater.
The Catamounts are back on the ice on Friday (Feb. 10) as UVM hosts Providence at 2 p.m. at Gutterson Fieldhouse.