Saturday, February 27, 2016
2016 Hockey East Opening Round Pairings Set
Boston College, Providence, Notre Dame, UMass Lowell Earn Byes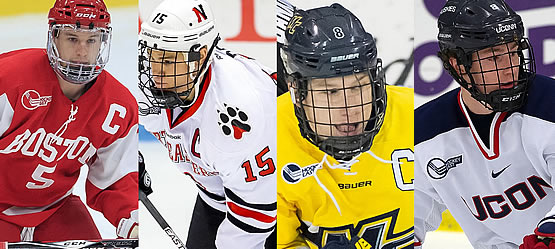 Boston University, Northeastern, Merrimack and UConn will hosts opening round series next weekend
WAKEFIELD, Mass. – The Hockey East Association announced the pairings for the opening round of the 32nd annual Hockey East Tournament Saturday night. Opening round games begin Thursday (March 3) for eight teams while No. 1 Boston College, No. 2 Providence, No. 3 Notre Dame and No. 4 UMass Lowell each earned byes into the quarterfinals. A full schedule can be found below.
No. 5 Boston University welcomes No. 12 Massachusetts to Agganis Arena after the Terriers swept the season series, 2-0-0. Historically, BU is 6-0 all-time in the Hockey East playoffs against the Minutemen, with all six wins coming in the quarterfinal round of play. The two programs last met in the postseason in 2006.
No. 6 Northeastern locked up the sixth spot, drawing No. 11 Maine in playoffs for the first time since 2001 quarterfinals when the Black Bears knocked off the Huskies in two straight games. The programs finished the regular season with a two-game set at Northeastern Feb. 26-27, with the Huskies taking each of those tilts. After starting the year 2-12-3, Northeastern is 14-1-2 in its last 17 games and has won its last seven. This occasion marks the seventh all-time postseason meeting between the two squads, with Maine boasting a 6-1 record in the previous six series.
No. 7 Merrimack plays host to No. 10 New Hampshire after the teams shuffled spots over the last weekend of play. New Hampshire emerged victorious over the Warriors in the regular season, taking a 1-0-1 record. The Wildcats command an 8-1 record all-time in the postseason against Merrimack. The last time the two teams met, it was on TD Garden ice in the 2011 Hockey East semifinals, where Merrimack advanced to the championship game for the first and only time in program history.
No. 8 UConn earned the right to host a Hockey East playoff series in just the second season of play in the league and will face off with No. 9 Vermont. In the first appearance in the Hockey East playoffs in 2015, UConn fell twice in the opening round to New Hampshire. Vermont has advanced out of the opening round each of the two times it has drawn into the first weekend of postseason play. Last season, the Catamounts topped Maine in three games before toppling then-No. 3 Boston College in a three-game set to advance to the semifinals at TD Garden.
2016 Hockey East Opening Round Schedule

Date
Game
Time
Thu., March 3
No. 10 New Hampshire at Merrimack
7 p.m.
Fri., March 4
No. 11 Maine at No. 6 Northeastern
7 p.m.
Fri., March 4
No. 10 New Hampshire at No. 7 Merrimack
7 p.m.
Fri., March 4
No. 9 Vermont at No. 8 UConn
7 p.m.
Fri., March 4
No. 12 UMass at No. 5 Boston University
7:30 p.m.
Sat., March 5
No. 12 UMass at No. 5 Boston University
7 p.m.
Sat., March 5
No. 11 Maine at No. 6 Northeastern
7 p.m.
Sat., March 5
No. 9 Vermont at No. 8 UConn
7 p.m.
Sun., March 6
No. 9 Vermont at No. 8 UConn*
5 p.m.
Sun., Match 6
No. 12 UMass at No. 5 Boston University*
7 p.m.
Sun., March 6
No. 11 Maine at No. 6 Northeastern*
7 p.m.
Sun., March 6
No. 10 New Hampshire at No. 7 Merrimack*
7 p.m.
* if necessary