Thursday, October 13, 2016
Hockey East Boasts Most NHL Players on Opening Rosters Ever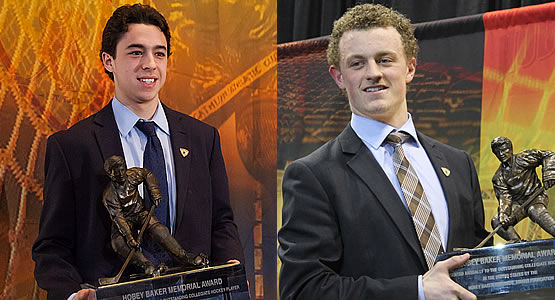 Recent Hobey Baker Award winners Johnny Gaudreau (BC) and Jack Eichel (BU) are among the Hockey East players who start the season in the NHL.
WAKEFIELD, Mass. – A record 69 alumni of Hockey East schools will start the 2016-2017 season on National Hockey League rosters, 10 more players than the previous record of 59 that began the 2015-16 season on NHL teams, and the most of any college hockey conference this year. A full listing of players, schools and teams is below.
Boston College boasts the highest total of NHL alumni of any NCAA school, with 17 former Eagles earning an NHL roster spot, including 2014 Hobey Baker Award winner and 2015 Calder Trophy finalist Johnny Gaudreau (Carneys Point, N.J.). Boston University developed nine players tabbed to NHL squads, including 2015 Hobey Baker Award winner Jack Eichel (North Chelmsford, Mass.). Maine also produced nine players, while Notre Dame sends eight, UMass Lowell and Northeastern each boast five players and Massachusetts, New Hampshire, Providence and Vermont all have four alumni skating in the NHL to begin the year.
Seven players that skated in the 2015-16 Hockey East season were named to an NHL club as Boston College products Zach Sanford (Auburn, N.H./Washington), Steven Santini (Mahopac, N.Y./New Jersey) and Miles Wood (Manchester, Mass./New Jersey), former BU netminder Sean Maguire (Powell River, B.C./Pittsburgh), former Maine defenseman Dan Renouf (Pickering, Ont./Detroit), former Northeastern blueliner Matt Benning (St. Albert, Alta./Edmonton), and former Friar forward Brandon Tanev (Toronto, Ont./Winnipeg) will begin the year at hockey's top level. Hockey East alumni are featured on 27 of 30 NHL teams and nine carry at least three Hockey East alumni: Boston, Carolina, Chicago, Dallas, Detroit, New Jersey, New York Rangers, Pittsburgh, and Washington.
NHL Team
First
Last Name
Pos.
NCAA Team
CBJ
Cam
Atkinson
F
Boston College
TB
Brian
Boyle
F
Boston College
PIT
Brian
Dumoulin
D
Boston College
DAL
Patrick
Eaves
F
Boston College
CGY
Johnny
Gaudreau
F
Boston College
BUF
Brian
Gionta
F
Boston College
CAR
Noah
Hanifin
D
Boston College
BOS
Jimmy
Hayes
F
Boston College
NYR
Kevin
Hayes
F
Boston College
NYR
Chris
Kreider
F
Boston College
FLA
Michael
Matheson
D
Boston College
WSH
Brooks
Orpik
D
Boston College
WSH
Zach
Sanford*
F
Boston College
NJ
Steven
Santini*
D
Boston College
NJ
Cory
Schneider
G
Boston College
COL
Ben
Smith
F
Boston College
NJ
Miles
Wood*
F
Boston College
PIT
Nick
Bonino
F
Boston University
CGY
Alex
Chiasson
F
Boston University
NYR
Adam
Clendening
D
Boston University
MIN
Charlie
Coyle
F
Boston University
BUF
Jack
Eichel
F
Boston University
PIT
Sean
Maguire^*
G
Boston University
SJ
Matt
Nieto
F
Boston University
STL
Kevin
Shattenkirk
D
Boston University
NSH
Colin
Wilson
F
Boston University
TB
Ben
Bishop
G
Maine
CHI
Scott
Darling
G
Maine
MTL
Brian
Flynn
F
Maine
DET
Jimmy
Howard
G
Maine
VAN
Ben
Hutton
D
Maine
DET
Gustav
Nyquist
F
Maine
LA
Teddy
Purcell
F
Maine
DET
Dan
Renouf*^
D
Maine
DAL
Devin
Shore
F
Maine
SJ
Justin
Braun
D
Massachusetts
LA
Jonathan
Quick
G
Massachusetts
PIT
Conor
Sheary
F
Massachusetts
BOS
Frank
Vatrano^
F
Massachusetts
MIN
Christian
Folin
D
UMass Lowell
CAR
Ron
Hainsey
D
UMass Lowell
WPG
Connor
Hellebuyck
G
UMass Lowell
STL
Carter
Hutton
G
UMass Lowell
PIT
Scott
Wilson
F
UMass Lowell
CAR
Brett
Pesce
D
New Hampshire
TOR
James
van Riemsdyk
F
New Hampshire
CHI
Trevor
van Riemsdyk
D
New Hampshire
WSH
Daniel
Winnik
F
New Hampshire
EDM
Matthew
Benning*
D
Northeastern
NSH
Anthony
Bitetto
D
Northeastern
ANA
Josh
Manson
D
Northeastern
DAL
Jamie
Oleksiak
D
Northeastern
DET
Joe
Vitale^
F
Northeastern
PIT
Ian
Cole
D
Notre Dame
PIT
Thomas
DiPauli
F
Notre Dame
CHI
Vinnie
Hinostroza
F
Notre Dame
DAL
Stephen
Johns
D
Notre Dame
NYI
Anders
Lee
F
Notre Dame
NJ
Kyle
Palmieri
F
Notre Dame
PIT
Bryan
Rust^
F
Notre Dame
DET
Riley
Sheahan
F
Notre Dame
BOS
Noel
Acciari
F
Providence
EDM
Mark
Fayne
D
Providence
BOS
Tim
Schaller
F
Providence
WPG
Brandon
Tanev*
F
Providence
BOS
Kevan
Miller^
D
Vermont
MTL
Torrey
Mitchell
F
Vermont
DAL
Patrick
Sharp
F
Vermont
CAR
Viktor
Stalberg
F
Vermont
* Played in Hockey East in 2015-16 | ^ Will start NHL season on injured reserve