BOSTON COLLEGE SHUTS OUT MASSACHUSETTS, 2-0
John Muse posts shutout with 21 saves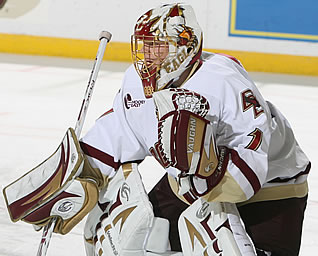 John Muse made 21 saves for the Eagles
CHESTNUT HILL, Mass. - Senior Benn Ferriero scored early in the first period, classmate Brock Bradford added an empty-net goal in the final minute of the third period and sophomore goalie John Muse recorded 21 saves to lead Boston College to a 2-0 Hockey East victory over Massachusetts before 4,389 fans in Kelley Rink.
Ferriero's goal came just 2:15 into the contest, 37 seconds after the Eagles gained their first man-advantage. Freshman Barry Almeida and Cam Atkinson assisted on the score.
BC earned an 8-4 shot advantage in the opening period.
Massachusetts outshot BC 15-5 in the middle period, but Muse was up to the challenge.
"John Muse was clearly the decisive factor in this game," BC coach Jerry York said.
BC reclaimed the edge in the final period and gained an 11-2 shot advantage. Bradford found the back of the net with the final shot with 20.1 seconds left on the clock.
Muse earned his fifth career shutout, his second against Massachusetts this season. UMass sophomore goalie Paul Dainton made 22 stops.
Team Records: Boston College 12-9-4, 8-7-4 Hockey East; Massachusetts 11-13-3, 6-9-3 Hockey East