BOSTON COLLEGE STORMS PAST MASSACHUSETTS, 7-1
Brian Gibbons has four assist game for Eagles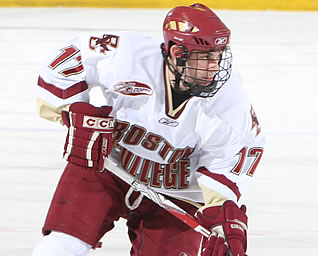 Brian Gibbons had four assists for the Eagles
AMHERST, Mass. - No. 14 Boston College scored four times in the first period and added three scores in the second to down No. 15 UMass Hockey 7-1 at the Mullins Center in front of a sellout crowd of 8.389. James Marcou scored the lone goal for the Minutemen (16-11-0, 11-9-0 HEA), while Joe Whitney had two goals and Brian Gibbons added four helpers for the Eagles (16-8-2, 12-6-2 HEA). Paul Dainton got the start in goal for UMass (12 saves), and was replaced by Dan Meyers (12 saves) following the first period. The Mass Attack will be back in action next Friday when the Minutemen will host Northeastern at 7 PM from the Mullins Center.
John Muse started in goal for Boston College, making 16 saves before Parker Milner took over at the start of the third period. Massachusetts was 0-for-6 on the power play, while the Eagles were 1-for-5.
The Eagles jumped out to a 4-0 lead during the first period, led by Joe Whitney's two goals. The first came five minutes into the first period when Whitney received a pass from Brian Gibbons in the far corner and wristed a shot that ricocheted off the post and past Dainton. Boston College made it 2-0 with seven minutes to play in the period when Paul Carey netted his sixth goal of the season off a feed from Steven Whitney.
The Eagles took a commanding three-goal lead just 1:18 after the Carey goal on Joe Whitney's second of the night. After Cam Atkinson threw a shot towards Dainton, the puck was redirected out of his reach, where Whitney pounded home the rebound from the crease. The goal was briefly reviewed but stood as called. Jimmy Hayes closed out the first period scoring when he backhanded a puck past Dainton during four-on-four play with 3:04 remaining in the first period.
Although Dan Meyers replaced Dainton at the start of the second period, the Eagles continued to pile it on, scoring three goals and outshooting the Minutemen 9-7. Steven Whitney picked up his fourth goal of the season with six minutes to play in the frame, and Chris Kreider notched his sixth of the year just one minute later to make it 6-0.
Atkinson gave Boston College a 7-0 advantage with 0.2 seconds remaining in the second period when he buried a shot from the left faceoff dot with the Eagles on the power play.
Boston College inserted Parker Milner into the game during the third period, and the Minutemen were able to break the shutout with five minutes to play on Marcou's ninth tally of the season when he backhanded a shot off an Eagle defender and past Milner.