Friday, February 12, 2010
BOSTON UNIVERSITY SKATES PAST MAINE, 7-4
Junior defenseman Colby Cohen has goal and two assists for Terriers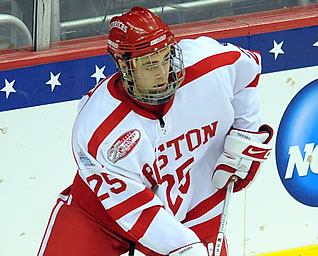 Colby Cohen had a goal and two assists for the Terriers
BOSTON, Mass. - Ross Gaudet scored a pair of goals to lead an offensive explosion as the Boston University men's ice hockey team beat 12th-ranked Maine, 7-4, on Friday night at Agganis Arena. Colby Cohen tallied three points (1g, 2a) as 13 different players got on the scoresheet to help the Terriers improve to 12-12-3 overall and 9-9-2 in Hockey East action, while the Black Bears fall to 14-10-3 and 11-7-2 in league play.
Zach Cohen and Nick Bonino each posted a goal and an assist in the game, while Joe Pereira and Max Nicastro registered multiple-point games as well with a two assists each. Vinny Saponari and David Warsofsky accounted for the Terriers' other two goals. Kieran Millan made 18 saves between the pipes before being relieved by Adam Kraus, who stopped all four shots he faced over the final 4:26.
BU never trailed in the game, as Gaudet scored just 1:18 into the game on what was the lone goal of the first period. Gaudet struck again at 4:33 of the second before the visitors scored back-to-back goals from the sticks of Joey Diamond and David deKastrozza to tie up the game with 6:15 left in the middle stanza.
The Terriers reestablished a two-goal edge before entering the second intermission, however, as Saponari scored a power-play tally at 16:03 before Bonino potted his seventh goal of the year less than two minutes later.
Maine tried to make it a contest at 5:59 of the third when Jeff Dimmen picked off a pass and skated in for an unassisted tally, but the Terriers once again had a quick answer.
The Cohens scored goals just 18 seconds apart, beginning with a tally from Zach at 7:25. Colby scored his team-leading 12th goal of the season off a faceoff at 7:47 with assists going to Max Nicastro and Bonino, giving BU its first three-goal cushion of the evening.
Warsofsky completed a three-goal run for BU at 10:59 with a blast from the left point, making it a 7-4 contest.
Maine capped the scoring with a goal by Robby Dee with 4:25 left in regulation.
The two teams will wrap up their weekend series on Saturday (Feb. 13) with a 7 p.m. contest at Agganis Arena.