HOCKEY EAST HEADLINES
Alina Mueller became Hockey East's all-time leading point-getter on Friday, scoring the game-winning goal in a 4-0 victory over Holy Cross. The tally was the 168th point of her career, surpassing the previous mark of 167 set by former Husky Kendall Coyne. Mueller's classmate, Chloe Aurard, currently sits fourth on the all-time list with 142 points. Boston College's Alex Carpenter is third with 160.
Sara Hjalmarsson turned in a five-point game on Friday, posting a hat trick and two helpers, to push Providence to a 7-4 win over New Hampshire. She added a fourth goal in a 4-4 draw at Maine the next day.
Maine toppled #14 UConn and drew with #13 Providence for four points to keep pace in the Army ROTC Hockey East Standings. Grace Heiting scored the overtime game winning goal over UConn on Friday while Anna LaRose made 27 saves in a 5-4 overtime victory before stopping 28 shots the next day in a 4-4 draw.
Boston University swept a weekend series against Merrimack and #12/11 Vermont, earning five points in league play and remaining just five points out of fifth place in the Army ROTC Hockey East Standings.

---
HOCKEY EAST CO-PLAYERS OF THE WEEK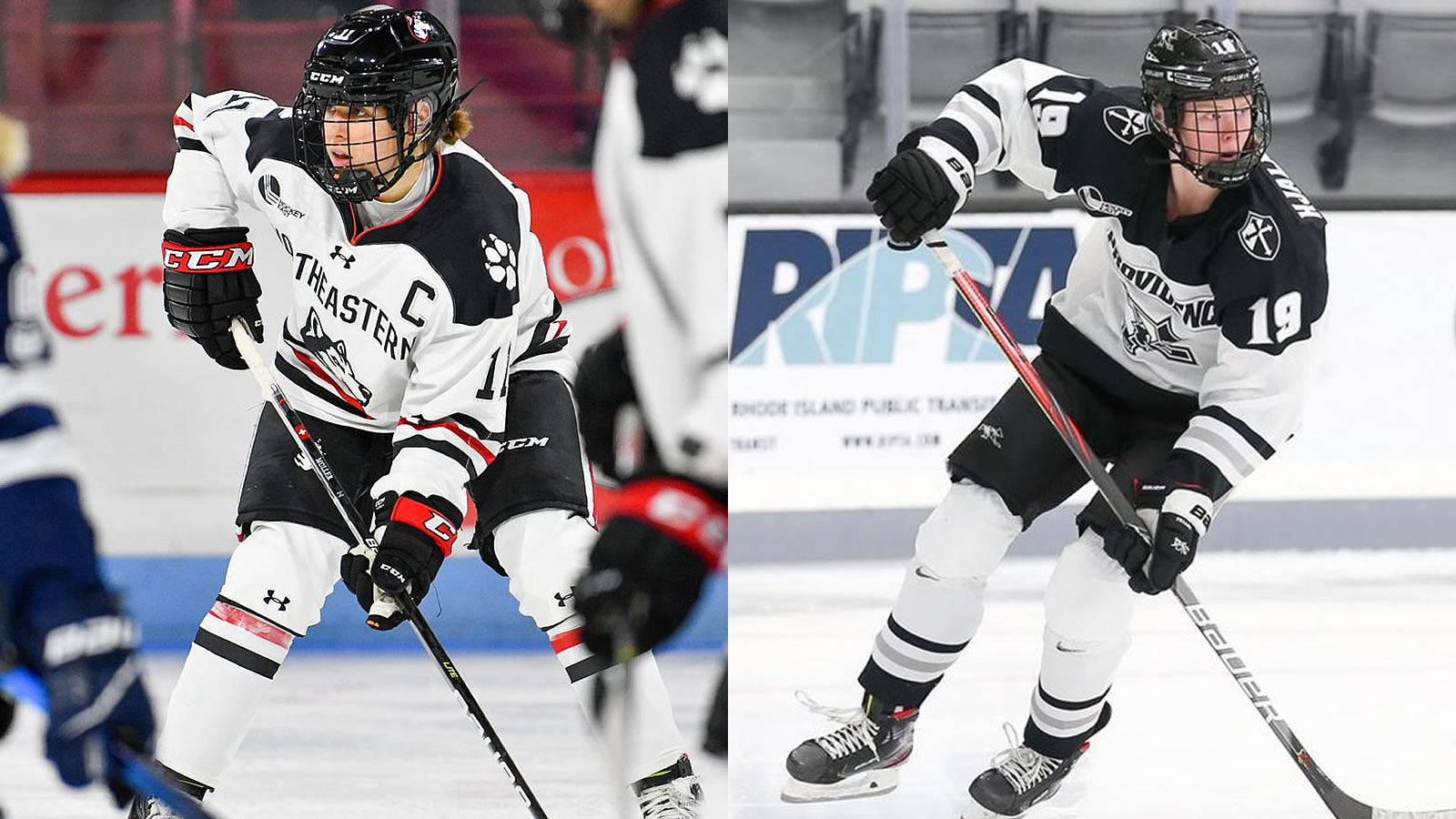 Alina Mueller - Northeastern
Sara Hjalmarsson - Providence
Alina Mueller (Gr., F; Winterthur, Switzerland) scored the game-winning goal to help Northeastern to a 4-0 victory over Holy Cross. Mueller's goal counted as her 168th career point in Hockey East play, making her the all-time career points leader. Mueller leads all Hockey East players with 39 points on the season.
Sara Hjalmarsson, PC (Gr., F; Bankeryd, Sweden) Recorded six points last weekend, including a five-point outing (3g, 2a) in Friday's 7-4 win at New Hampshire. It was her fourth career hat trick. She another goal on Saturday against Maine, a 4-4 draw.

---
PRO AMBITIONS ROOKIE OF THE WEEK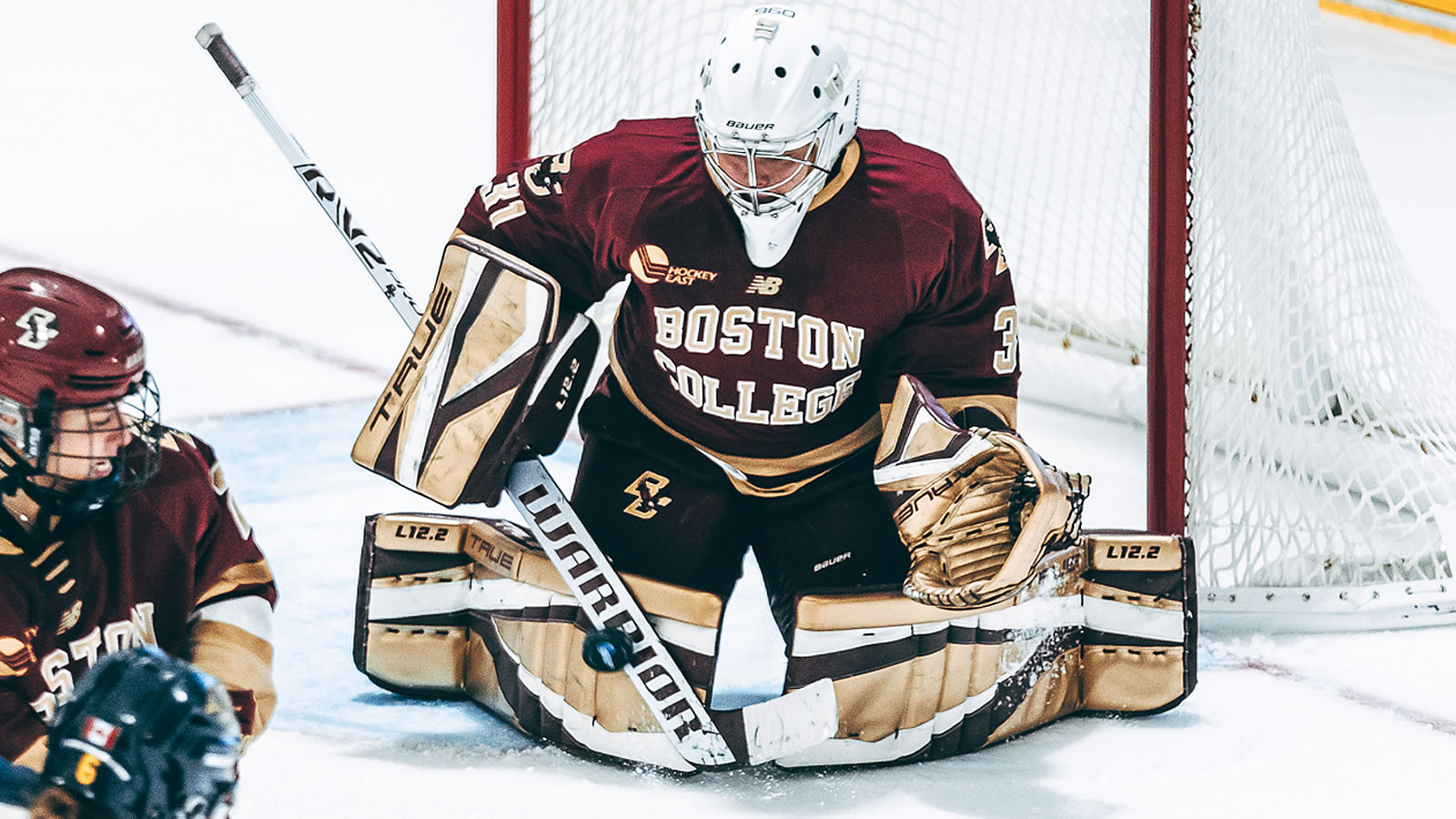 Grace Campbell - Boston College
Grace Campbell (Fr., G; Kensington, Md.) made 19 saves for her first career shutout on Saturday, a 4-0 win over Merrimack.

---
ARMY ROTC DEFENDER OF THE WEEK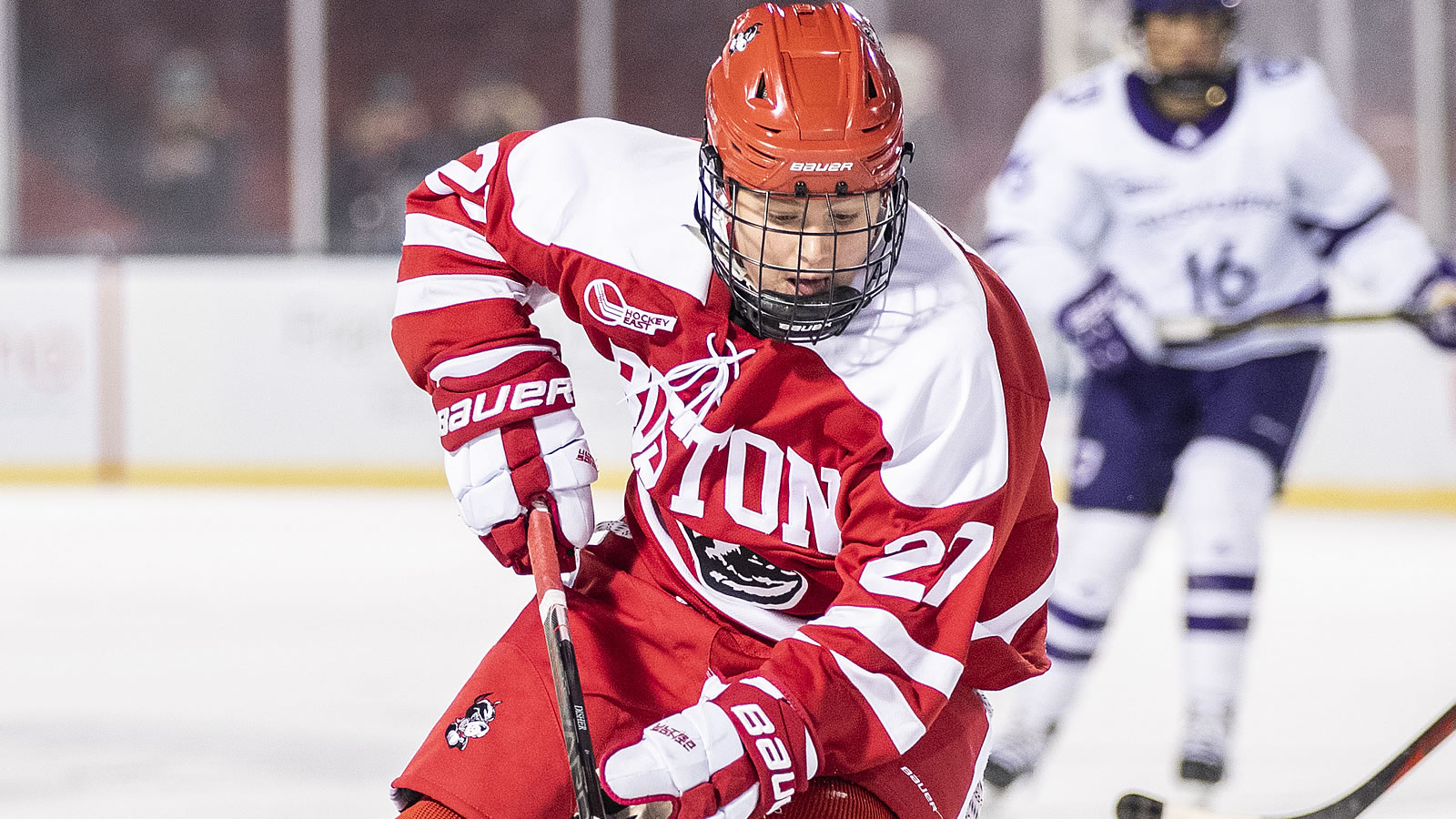 Brooke Disher - Boston University
Brooke Disher (Fr., D; Fort St. John, B.C.) dished out three assists and recorded a plus-three rating to help power the Terriers to a two-win weekend over Merrimack and #12/11 Vermont.

---
STOP IT GOALTENDER OF THE WEEK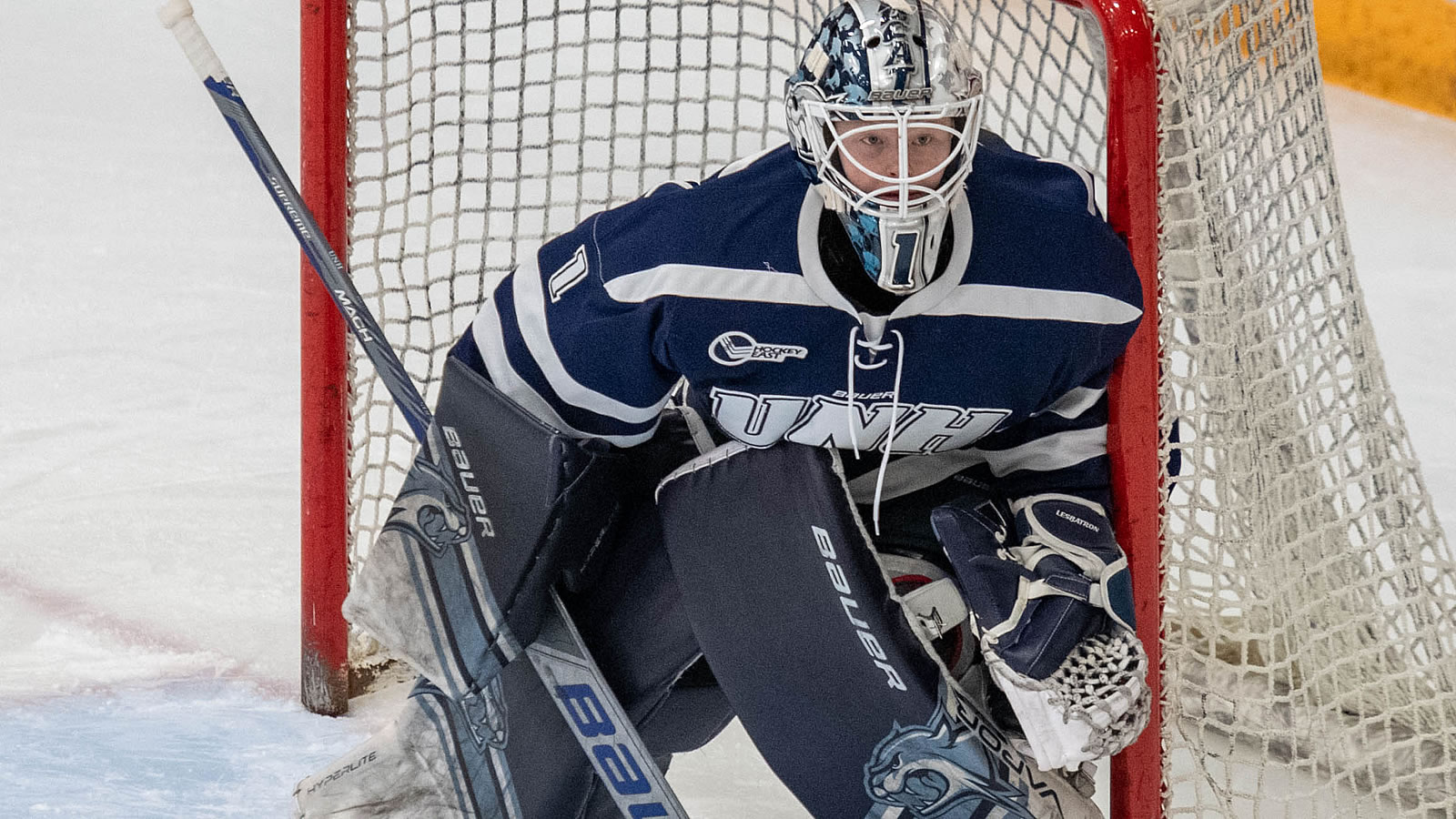 Nicky Harnett - New Hampshire
Nicky Harnett (Sr., Plymouth, Minn.) stopped all 22 shots to lead UNH to a 3-0 road win against 14th-ranked UConn on Sunday. She made 12 of those saves in the third period, including three in a eight-second span after UConn pulled its goalie at 17:42 of the third period. In three starts against nationally-ranked UConn, Harnett has stopped 71 of 72 shots for a 0.33 GAA and .986 save percentage with two shutouts.

---
HOCKEY EAST TOP PERFORMERS
Abby Newhook, BC (So., F; St. John's, N.l.) Tallied three points on two goals and one assist over the weekend. She had a two-point game with the game-winning goal and one assist in Saturday's 4-0 win against Merrimack. She finished tied second in the league with 11 shots on goal and also registered 19 face-off wins.
Cayla Barnes, BC (Sr., D; Eastvale, Calif.) Tallied two points on two assists over the weekend while registering five shots on goal and two blocked shots.
Madison Cardaci, BU (Jr., F; Westminster, Mass.) Recorded a natural hat trick on Friday, tallying the game's first three goals in a 4-1 victory over Merrimack. In a two-win weekend for the Terriers, she posted a plus-four rating.
Andrea Brändli, BU (Gr., G; Kloten, Switzerland) Backstopped BU to a pair of home wins, allowing just one goal in each contest. Posted a 1.00 goals-against average and .959 save percentage over the two games.
Grace Heiting, Maine (Gr., F; Woodbury, Minn.) Scored the overtime game winning goal to defeat #14 UConn on Friday. She also had an assist against Providence in a 4-4 draw.
Lilli Welcke, Maine (Fr., F; Heidelberg, Germany) Netted two goals against Providence to help Maine earn a 4-4 draw. She also tallied an assist against UConn, a 5-4 victory.
Anna LaRose, Maine (Jr., G; Albertville, Minn.) Posted a 1-0-1 record in two starts last weekend, helping Maine to take four of six Hockey East points from #14 UConn and and #13 Providence. She made 27 saves in 5-4 overtime victory against the Huskies on Friday before stopping 28 shots the next day in a 4-4 draw.
Teghan Inglis, MC (Sr., D; Okotoks, Alta.) Scored the lone goal of the weekend for Merrimack in a 4-1 setback to Boston University on Friday.
Tamara Thierus, UNH (Sr., F; Saint-Jermone, Que.) Registered a goal and two assists for a total of three points in a split weekend for UNH. She matched her career highs of two assists and three points against 13th-ranked Providence on Friday. Her first assist came on the goal that tied the score, 1-1, at 9:32 of the first period.
Megan Carter, NU (Sr., D; Milton, Ont.) Tallied a goal and an assist as the Huskies downed Holy Cross, 4-0. Carter anchored the defense that allowed just 16 shots from the Crusaders, while tallying her fifth multi-point game of the year.
Gwyneth Philips, NU (Sr., G; Athens, Ohio) Posted her NCAA-leading ninth shutout and 24th win of the season with a 16-save performance against Holy Cross. Philips leads the nation in GAA (0.78) and save percent- age (.961).
Mégane Quirion, PC (Fr., F; Saint-Eustache, Que.) Secured her first career goal on Friday against UNH.
Lauren DeBlois, PC (Sr., D; Lewiston, Maine) Recorded two assists on Friday and a goal on Saturday to help Providence take five of six points in league play.