Friday, February 13, 2015
Boston College Secures WHEA Regular Season Title With 6-0 Win Over Maine
Junior forward Dana Trivigno has goal and two assists for Eagles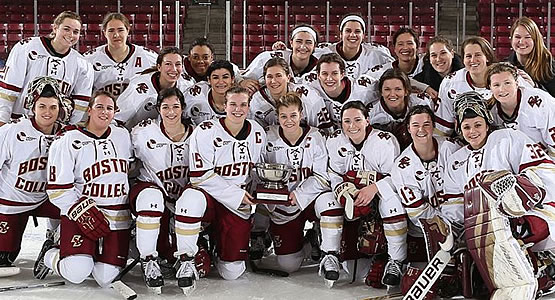 Boston College secured its second straight Hockey East Regular Season title
| | | | | | | |
| --- | --- | --- | --- | --- | --- | --- |
| Prd | Time | Team | Score | Type | Scored By | Assists |
| 1st | 9:48 | BC | 1-0 | EV GW | Dana Trivigno (12) | Toni Ann Miano/11, Kristyn Capizzano/9 |
| 2nd | 17:37 | BC | 2-0 | EV | Kenzie Kent (7) | Alex Carpenter/36, Haley Skarupa/30 |
| 3rd | 0:50 | BC | 3-0 | EV | Toni Ann Miano (2) | Kenzie Kent/26, Alex Carpenter/37 |
| 3rd | 2:14 | BC | 4-0 | EV | Kali Flanagan (3) | Dana Trivigno/16 |
| 3rd | 7:54 | BC | 5-0 | PP | Haley Skarupa (26) | Dana Trivigno/17, Alex Carpenter/38 |
| 3rd | 19:52 | BC | 6-0 | EV | Haley McLean (4) | Meghan Grieves/3, Danielle Doherty/4 |
| | | | | |
| --- | --- | --- | --- | --- |
| Scoring | 1st | 2nd | 3rd | Final |
| Maine | 0 | 0 | 0 | 0 |
| Boston College | 1 | 1 | 4 | 6 |
| | | | | |
| --- | --- | --- | --- | --- |
| Shots on Goal | 1st | 2nd | 3rd | SOG |
| Maine | 4 | 4 | 1 | 9 |
| Boston College | 12 | 16 | 17 | 45 |
| | | | |
| --- | --- | --- | --- |
| Team Stats and Records | PP | PIM | SHGF |
| Maine (10-15-3) | 0/2 | 6/12 | 0 |
| Boston College (28-1-1) | 1/6 | 2/4 | 0 |
| | | | | | | |
| --- | --- | --- | --- | --- | --- | --- |
| Maine Goaltending | MIN | GA | 1 | 2 | 3 | Saves |
| Meghann Treacy (L, 9-14-2) | 60:00 | 6 | 11 | 15 | 13 | 39 |
| | | | | | | |
| --- | --- | --- | --- | --- | --- | --- |
| Boston College Goaltending | MIN | GA | 1 | 2 | 3 | Saves |
| Katie Burt (W, 25-1-1) | 59:39 | 0 | 4 | 4 | 1 | 9 |
| Empty Net | 0:21 | 0 | | | | |
Chestnut Hill, Mass. - No. 1 Boston College women's hockey (28-1-1, 18-0-0 WHEA) downed Maine (10-15-3, 9-8-1 WHEA), 6-0, Friday afternoon at Kelley Rink to secure its second straight Hockey East Regular Season title. The Eagles' 28 wins are the most single-season victories in program history.
The opening frame saw back and forth play between the Eagles and the Black Bears, with junior forward Dana Trivigno tallying the only score of the period. Trivigno, rushing the net, slapped a one timer from freshman defenseman Toni Ann Miano to put BC up, 1-0, midway through the first.
Boston College came out storming in the second period, peppering Maine goaltender Meghann Treacy with 16 shots. Although the Eagles maintained pressure in the Black Bears' zone the majority of the middle stanza, they could not crack Treacy until late in the period.
With two minutes to play in the second, freshman forward Kenzie Kent sent in a sailing shot to send BC into the second intermission leading 2-0.
Boston College exploded for a four-goal third period to pin the Black Bears on their heels.
Freshman defenseman Toni Ann Miano scored in the first minute of the third. Carpenter wrapped it around and sent it across the crease to Miano, who powered it in to extend BC's lead to 3-0.
Another freshman defenseman netted a goal just over a minute later, when Kali Flanagan sent one past Treacy after Trivigno won the faceoff.
The Eagles capitalized on a power play midway through the third as junior forward Haley Skarupa slid in her 26th goal of the season to increase BC's lead to 5-0.
With eight second remaining, sophomore forward Haley McLean scored the final Boston College goal to secure the Hockey East regular season title by a score of 6-0.
Notes:
- Katie Burt recorded her eighth shutout of the season vs. Maine
- The Eagles faced a season-low nine shots on goal from the Black Bears
- BC's 28 wins are the most in a single season in program history
- Boston College won the Hockey East regular season trophy for the second straight year
The Eagles and Black Bears meet for game two of the series tomorrow, Feb. 14 at 1 p.m.