Saturday, November 4, 2017
UConn And Rensselaer Skate To 0-0 Tie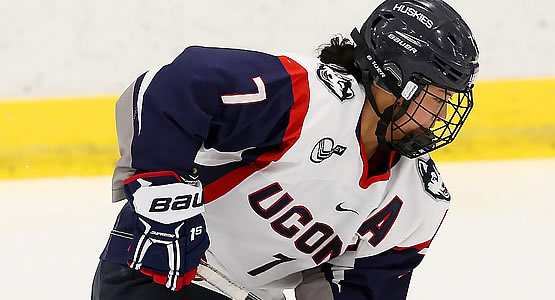 UConn senior forward Leah Lum (pictured)
| | | | | | | |
| --- | --- | --- | --- | --- | --- | --- |
| Prd | Time | Team | Score | Type | Scored By | Assists |
| | | | | | |
| --- | --- | --- | --- | --- | --- |
| Scoring | 1st | 2nd | 3rd | OT | Final |
| Rensselaer | 0 | 0 | 0 | 0 | 0 |
| UConn | 0 | 0 | 0 | 0 | 0 |
| | | | | | |
| --- | --- | --- | --- | --- | --- |
| Shots on Goal | 1st | 2nd | 3rd | OT | SOG |
| Rensselaer | 12 | 6 | 9 | 3 | 30 |
| UConn | 6 | 14 | 6 | 2 | 28 |
| | | | |
| --- | --- | --- | --- |
| Team Stats and Records | PP | PIM | SHGF |
| Rensselaer (3-5-2) | 0/4 | 1/2 | 0 |
| UConn (4-3-2) | 0/1 | 4/8 | 0 |
| | | | | | | | |
| --- | --- | --- | --- | --- | --- | --- | --- |
| Rensselaer Goaltending | MIN | GA | 1 | 2 | 3 | OT | Saves |
| Lovisa Selander (T, 3-5-2) | 65:00 | 0 | 6 | 14 | 6 | 2 | 28 |
| | | | | | | | |
| --- | --- | --- | --- | --- | --- | --- | --- |
| UConn Goaltending | MIN | GA | 1 | 2 | 3 | OT | Saves |
| Morgan Fisher (T, 1-1-1) | 64:44 | 0 | 12 | 6 | 9 | 3 | 30 |
| Empty Net | 0:16 | 0 | | | | | |
STORRS, Conn. - Behind the strong performance of sophomore goalie Morgan Fisher, the UConn women's ice hockey team played to a scoreless tie with Rensselaer on Saturday afternoon in non-conference action at the Mark Edward Freitas Ice Forum.
Fisher made 30 saves for the Huskies (4-3-2, 0-2-1 WHEA) between the pipes, recording her second shutout of the season. Freshman Natalie Snodgrass led UConn with five shots in the tie with the Engineers.
"(Fisher) probably had five or six big-time saves in good scoring chances. If we get that every time she plays, I will be a very happy coach," said head coach Chris MacKenzie of the goaltending on Saturday.
RPI goalie Lovisa Selander made 28 saves in her shutout of the Huskies, with 14 coming in the second period. UConn was outshot in the final 25 minutes of the game, 12-8, but recorded some great scoring opportunities.
"The only thing I would want to change from today is the first 20 minutes," said MacKenzie. "In the last 45 minutes, we had a lot of good chances - it was just a goaltenders' battle. We generated chances and worked our tails off, so we're progressing forward."
An area of strength on Saturday was one that has given UConn trouble early this season - the ability to kill-off penalties. The Huskies committed four penalties against RPI, but fought off each one to keep the game scoreless.
The UConn defense, after allowing 12 shots in the first period, settled down in the second - surrendering just six shots on goal. Fisher's brilliance was highlighted with a great save at 15:30 in the second period, snagging a wrist shot from RPI's Shayna Tomlinson on a breakaway.
"I wasn't too clean on my rebound control at times today, but our defense was able to get the puck out from in front of the net to help me," said Fisher. Her 30 saves matched a career-high from a 3-2 loss at Merrimack (Jan. 7) in her freshman season.
The Huskies came out aggressive in the second period, recording nine shots over the first five minutes, including a rip early in the period from senior Leah Lum. UConn managed just one shot on RPI's sole penalty - a roughing call in the third period.
Snodgrass had an opportunity with 1:15 remaining in overtime, but her backhanded shot was met by Selander. RPI held a slight 3-2 edge in shots in the extra period.
UConn returns to Hockey East action this coming weekend when it travels for a rematch at Boston University on Friday at 7 p.m. The Huskies wrap-up the weekend with a Sunday game at Maine, with puck drop at 2 p.m.