UConn Rolls Past Union, 6-1
Sophomore forward Briana Colangelo has two goals and assist for Huskies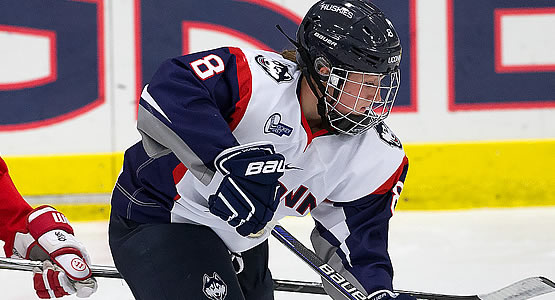 Junior forward Rebecca Lindblad had two assists for the Huskies
| | | | | | | |
| --- | --- | --- | --- | --- | --- | --- |
| Prd | Time | Team | Score | Type | Scored By | Assists |
| 1st | 15:56 | CON | 1-0 | EV | Morgan Wabick (1) | Jaime Fox/1, Emily Reid/1 |
| 1st | 19:24 | CON | 2-0 | EV GW | Catherine Crawley (1) | Natalie Snodgrass/2, Rebecca Lindblad/2 |
| 2nd | 11:12 | CON | 3-0 | EV | Briana Colangelo (2) | Taylor Wabick/2, Kayla Mee/2 |
| 2nd | 12:46 | CON | 4-0 | EV | Catherine Crawley (2) | Rebecca Lindblad/3, Natalie Snodgrass/3 |
| 3rd | 10:58 | CON | 5-0 | PP | Briana Colangelo (3) | Morgan Wabick/1, Jaime Fox/2 |
| 3rd | 16:27 | CON | 6-0 | EV | Leah Lum (2) | Briana Colangelo/2, Natalie Snodgrass/4 |
| 3rd | 17:40 | UNI | 1-6 | EV | Katie Laughlin (1) | - |
| | | | | |
| --- | --- | --- | --- | --- |
| Scoring | 1st | 2nd | 3rd | Final |
| Union | 0 | 0 | 1 | 1 |
| UConn | 2 | 2 | 2 | 6 |
| | | | | |
| --- | --- | --- | --- | --- |
| Shots on Goal | 1st | 2nd | 3rd | SOG |
| Union | 3 | 6 | 7 | 16 |
| UConn | 16 | 19 | 17 | 52 |
| | | | |
| --- | --- | --- | --- |
| Team Stats and Records | PP | PIM | SHGF |
| Union (0-4-1) | 0/2 | 2/4 | 0 |
| UConn (2-2-0) | 1/2 | 2/4 | 0 |
| | | | | | | |
| --- | --- | --- | --- | --- | --- | --- |
| Union Goaltending | MIN | GA | 1 | 2 | 3 | Saves |
| Amelia Murray (L, 0-2-0) | 32:46 | 4 | 14 | 11 | 0 | 25 |
| Coco Francis | 27:14 | 2 | 0 | 6 | 15 | 21 |
| | | | | | | |
| --- | --- | --- | --- | --- | --- | --- |
| UConn Goaltending | MIN | GA | 1 | 2 | 3 | Saves |
| Annie Belanger (W, 2-1-0) | 60:00 | 1 | 3 | 6 | 6 | 15 |
STORRS, Conn. - From start to end on Friday night, the UConn women's ice hockey team dominated Union in a 6-1 win at the Mark Edward Freitas Ice Forum. Sophomores Briana Colangelo and Catherine Crawley each scored two goals in the victory.
The Huskies (2-2-0, 0-1-0 WHEA) snapped a two-game losing skid in a big way, outshooting the Dutchwomen (0-4-1, 0-0-0 ECAC) 52-16 - controlling the flow of the game right from the beginning.
Senior goaltender Annie Belanger (2-1-0) picked up the win between the pipes, making 15 saves on the night. Union split time between goalies Amelia Murray and Coco Francis, with Francis recording a game-high 32 saves and allowing four tallies.
Coming off a 2-1 loss to Vermont last Saturday at home, the Huskies earned their first win of the season at Freitas and moved to 2-1-0 in non-league play.
Freshman Morgan Wabick scored her first-career goal at 15:56 in the first period off an assist from junior Jaime Fox and sophomore Emily Reid, putting the Huskies ahead 1-0. Before the period ended, Crawley added to the lead at 19:24 with a finish of her own.
Within a two-minute period in the second, UConn doubled its lead with scores from Colangelo and Crawley at 11:12 and 12:46, respectively. Freshman Natalie Snodgrass and junior Rebecca Lindblad assisted on Crawley's goal - her second of the game.
Colangelo tacked on her second almost halfway through the third period, before senior Leah Lum joined the scoring party at 16:27 when she beat Francis at the far post. Union scored in the final three minutes, narrowing the margin of victory.
UConn was 1-of-2 on power plays, taking advantage of a hooking call on Cheyenne Harris in the third period with Colangelo's goal. Each team committed two penalties in the contest, as Union was 0-for-2 on power play chances.
Six Huskies accounted for multiple points in the game, including Colangelo and Snodgrass who each had three points in the win.
Friday night was the first time since Nov. 5, 2016 that UConn scored at least six goals in a game, last achieving the feat in a 7-1 win over Merrimack in North Andover, Mass.
UConn and Union play the rematch on Saturday at 3 p.m. (ET) in the Freitas Ice Forum. Husky Vision will be producing the live stream, with Jack Templeton on the call.